Mekedatu makes for a perfect one day trip from Bangalore. It is one of my favourite places as the gorge, the river and the people are just very beautiful. I had visited Mekedatu as part of a work outing. The village and the place were breathtakingly spectacular and the visit to Mekedatu had been the best trip with my colleagues back then.
PIN for later reference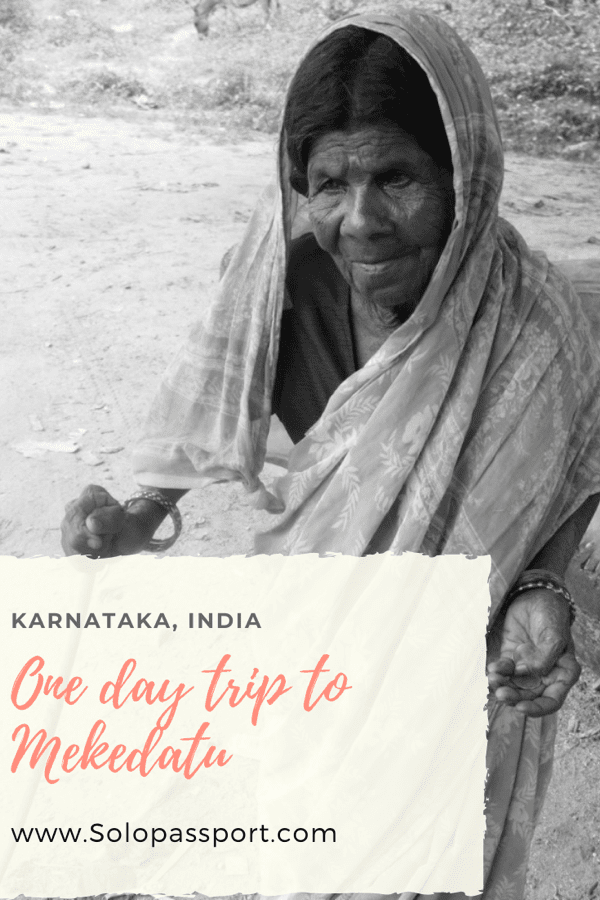 This article may contain affiliate links. For full information, please see our affiliate disclaimer here.
About Mekedatu
Mekedatu, located along Chamarajnagara and Ramanagara districts, is a gorge on River Cauvery. The gorge is made up of hard granite rocks on either sides of the river. And River Cauvery runs through these rocks that are around 10 to 12 meters in width.
If you are already in Mekedatu, you can extend your travel to include either a hike in Bilikal Rangaswamy betta or a visit to Shivanasamudra falls.
The best time to visit Mekedatu is during the dry season (between October and April) as the water levels are low making it accessible. Monsoon season is very dangerous and I would not recommend visiting Mekedatu during the rains.
One cannot stay at Mekedatu and they have to return to Sangama (5 kilometres from Mekedatu) before sunset. The viewpoint for gorge is open between 8:30 AM and 5:30 PM, even though the last bus to Sangama from Mekedatu is at 5 PM. The bus and the boat services stop by 5:30 PM. Boat is the only way to cross the river to the other side of Sangama.
Sangama is a place where River Arkavathi merges with River Cauvery. You can stay at Sangama making this trip a weekend trip from Bangalore. KSTDC runs a hotel by the name Hotel Mayura Sangama Mekedatu where stay can be booked and the stay starts from INR 1100.
Why is it called Mekedatu?
Mekedatu in Kannada language means goat's leap. There are a few local stories, all related to the goat, as to how the name came.
It is believed that there was an incident seen by a herdsman where a goat was chased by a tiger and in an attempt to save itself the goat leaped from one side of the gorge to the other.
Goats used to cross the gorge easily from one side to the other before the erosion and widening of the gorge.
Another story is that the goat that leaped across the River Cauvery was Lord Shiva in disguise. There are many goats hooves on the rocks and it is believed that only powerful divine beings could make footprints on such hard rocks.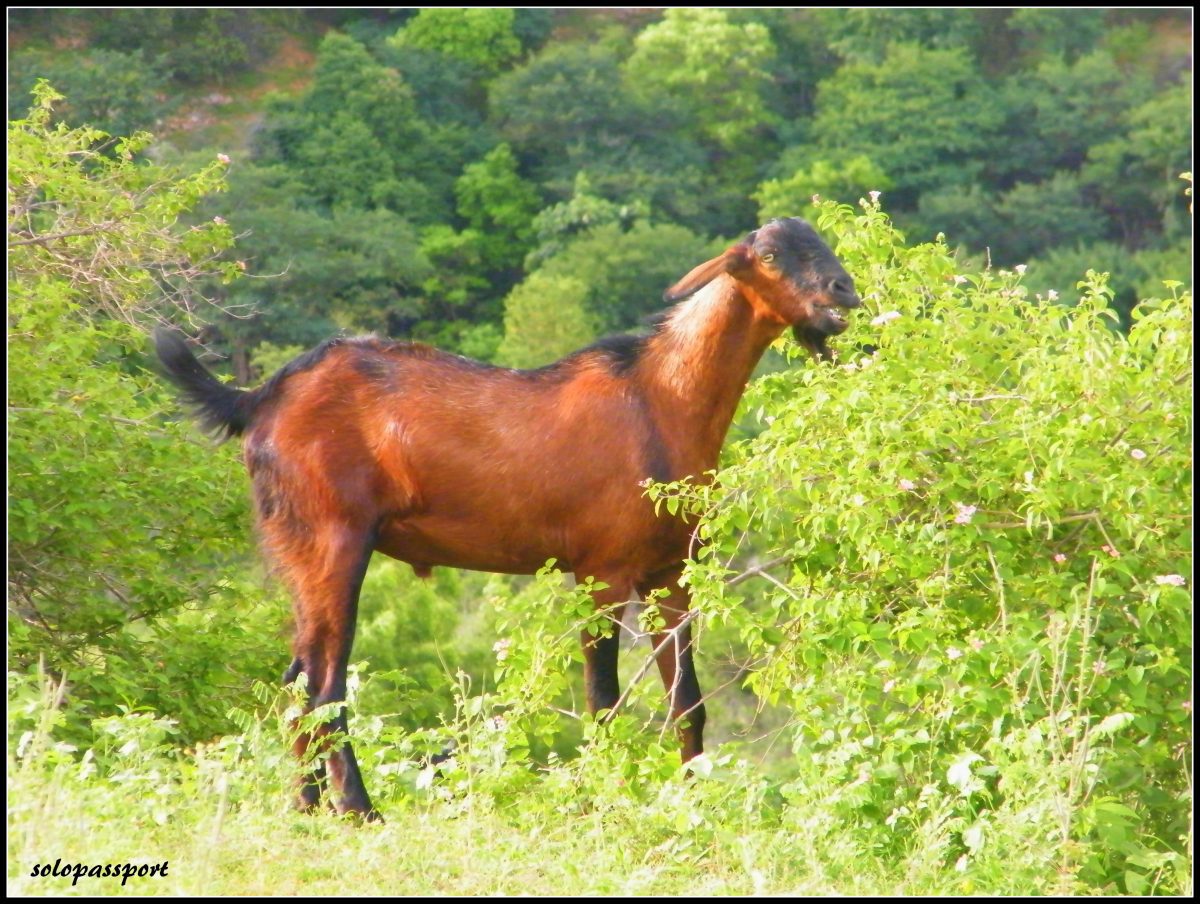 How to get to Mekedatu?
Public transport
The best way to reach by public transport is by taking a bus from Bangalore (Majestic bus stop) to Sangama. Mekedatu is around 5 kilometres from Sangama. After reaching Sangama, one needs to take a boat ride (coracle ride) to the other side of the river. Note, some people may suggest walking across the river. I definitely would not suggest doing that as the water has high currents sometimes.
From the other side of the river, there are two ways to reach Mekedatu:
Take a local bus that runs every half an hour. The last bus is at 5 PM. Fare needs to be paid by cash and it is very minimal.
Walk to Mekedatu. The walk is pristine and it is only about 5 kilometres. We walked to Mekedatu and met many locals.
Driving
The best and easiest way to get to Mekedatu is by driving to Sangama. Sangama is around 95 kilometres from Bangalore city, towards Kanakpura. By road, it usually takes around 2 hours 30 minutes and the route has toll roads. We had hired a tempo traveler for our commute from Bangalore. Once reaching Sangama, take a boat ride to the other side. And from there either walk or take a bus.
Walk to Mekedatu from Sangama
If you want to see the raw and untouched charm of the place, then definitely walk to Mekedatu from Sangama. The distance between Sangama and Mekedatu is only 5 kilometres. On the way, you get to see the wonderful locals and wildlife. The walk is a photographer's delight as there are many opportunities to take pictures.
Important Information
Carry your lunch with you to the gorge if you plan to stay there for long.
There are plenty of darshinis (fast food restaurants) on the way and are perfect for morning breakfast or afternoon lunch.
Take your garbage with you and do not dirty the place. Do not throw anything into the river.
There are many monkeys around, so definitely be careful of your belongings and food.
Listen to the locals as they know the best. But also trust your instinct as to when to listen and when not to.
Be very careful of the river as the force and current are too strong and can be fatal.

Do not attempt to cross the gorge from one side to the other as it is very dangerous.

Do not try to cross the river alone or without any help from the locals and ropes.

Rocks are slippery and so be very careful where to step.

Be careful at the edges of the cliffs.
Swimming is not recommended in the area as it is very dangerous.
Safety for solo female travelers
I have a 50-50 opinion about Mekedatu being safe for solo female travelers. Even though I did not face any problems when I visited, I still felt that there could be times where the place can get isolated. As I have a mixed feeling, I would say no, especially if you plan to walk from Sangama to Mekedatu. It is best to go with at least one other person.
Closing Notes
I highly recommend visiting Mekedatu as it is one of those untouched beauties closer to Bangalore. The gorge is mesmerising and the formation of rocks are wonderful to look at. Have you visited Mekedatu? Let me know in the comments below.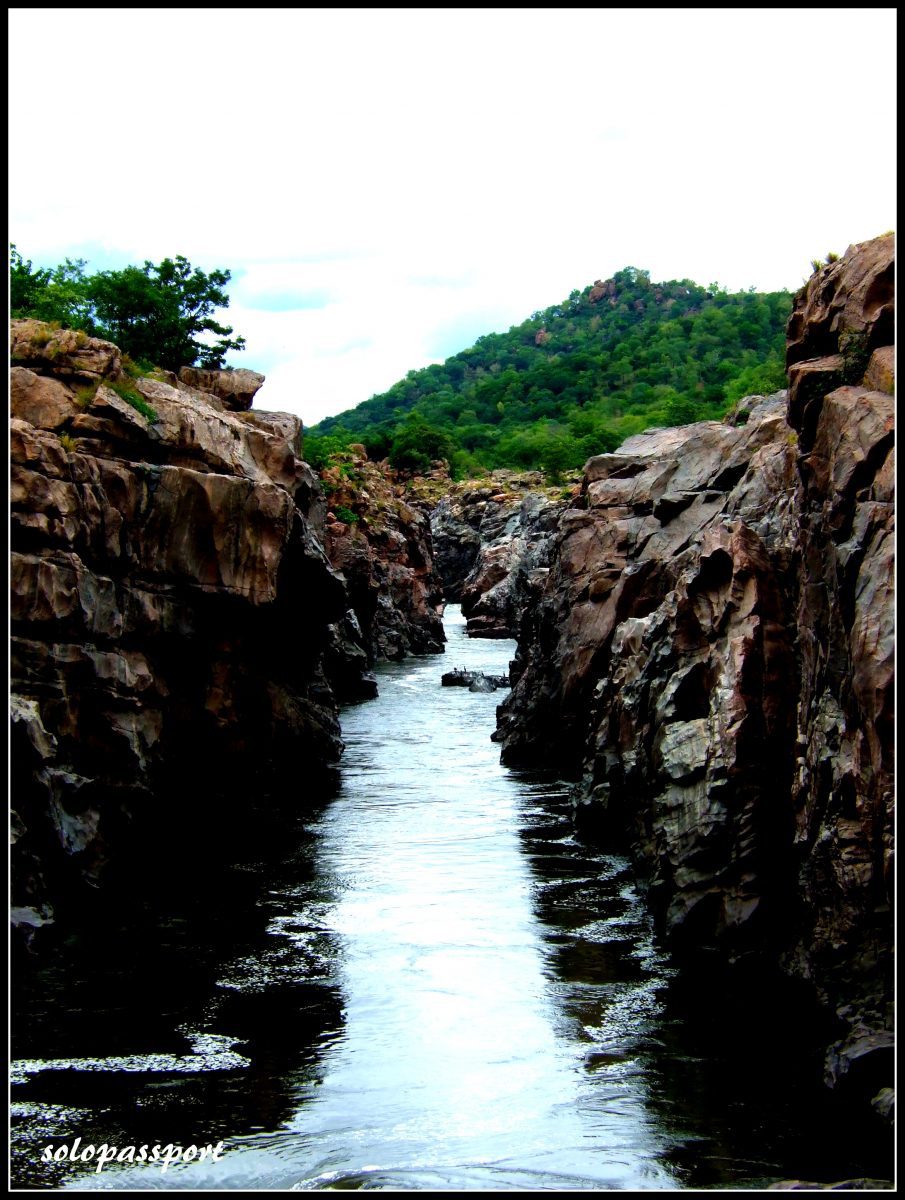 How can you support me?
You know how much I love coffee, so you can buy me coffee – Buy me Coffee!
Or you can purchase from one of the below travel resources without any extra charge to you.

Travel Resources
Click to book your flight on Skyscanner.com
Click to book your accommodation on Stay22
Click to book a comprehensive travel insurance on Safety Wing
Click to book your tours and travels on Viator or GetYourGuide
If you liked this article and if it was helpful in your planning or traveling, do share, tweet, or pin this post.

Follow me on Instagram | Facebook | YouTube | Twitter | LinkedIn
Do you have a question? Or want any suggestions, and tips for travels, hikes and scuba dives? Use the Subscription box below to sign-up and get updates by email.
PIN for later reference