Road trip | North of Tasmania
I have always loved visiting the small island of Tasmania. I have been to the island state multiple times and have done many road trips as well, one covering Launceston and surrounds and the other travel with my mother on the East Coast. After completing the east coast and Launceston area, my friends and I traveled up north to do a 4 days road trip along the north coast of Tasmania.
PIN for later reference
This article may contain affiliate links. For full information, please see our affiliate disclaimer here.
Where is Tasmania?
Location 240 kilometres off the coast of Australia mainland, Tasmania is an island state in the south of Australia. It is the 26th largest island in the World and is famous for having the cleanest air in the World. The island is also known for its food as it is fresh and delicious.
The best time to visit Tasmania is during the summer season (from December to February). During the autumn (March to May) and winter (June to August) seasons, the island is extremely cold.
You need at least a week to explore the island as it has so much to offer to its visitors. Every corner in Tasmania is beautiful so be prepared to be blown away.
Flights to and from Tasmania
There are two ways to reach Tasmania from mainland Australia:
Flights – Even though Hobart is the capital city, it is cheaper to fly into Launceston from Sydney or Melbourne. Jetstar is the cheapest flight provider and the flight ticket from Sydney to Launceston one way cost as low as AUD 69 during sale.
Ship – The other way to reach Devonport Tasmania from Melbourne along with your car is by taking the Spirit of Tasmania. The cost varies from AUD 188 to AUD 449 depending on the flexibility of the ticket, the fare including taking a small car.
Road trip along the north coast of Tasmania – Route
First things first, we had to hire a car as we had flown into Launceston. The car rental company that we went with is Hertz Australia. I have been a fan of their rental agency as the cars are clean and relatively new. And they have very fast and efficient booking and delivering process.
Tip: When renting a car in Australia, always ensure to pick up the car with full insurance and zero excess.
We started and ended our road trip along the north coast from Launceston. The route that we followed, from Launceston to Launceston, covering all the places we visited in that 4 days are listed below:
Note:

The entire road trip was about 800 kilometres in 4 days.
I was the sole and only driver throughout the trip.
As the roads are in good condition, this road trip and route is easily doable in 4 days.
Places visited during our road trip
Launceston
Starting point of our road trip – Launceston.
Launceston is Tasmania's second largest city in northern part of Tasmania. Known for Cataract Gorge and amazing walking trails, Launceston is definitely my favourite city in Tasmania. There are many things that you can see and do at Launceston and some of them are Queen Victoria museum (19th century railway workshop), Prince's square and Franklin house.
You can also extend your travel to Bridestowe Lavender Estate if you have time. It is a one day trip from Launceston. For all the places along the east coast and the route that I followed during my road trip with my mother, read east coast of Tasmania.
Cataract Gorge Reserve
Around 1.5 kilometres from the city centre of Launceston is the Cataract Gorge Reserve, which is a river gorge. It is one of the top destinations of Tasmania and you can swim in the Cataract Gorge.
Note: The depth of Cataract Gorge is around 20 metres, so attempt to swim only if you are a confident swimmer.
Devonport
Devonport, also known as Australia's market garden, produces fruits and vegetables that make up to 40% of Tasmania's annual crops. It is a city on the north coast, located where the Mersey River meets Bass Strait. The distance between Launceston and Devonport is around 100 kilometres.
Mersey Bluff lighthouse
The Mersey Bluff lighthouse is located on the mouth of Mersey River. It is known for its distinctive red and white striped patterns. The lighthouse was established in the year 1889 and is built of bricks.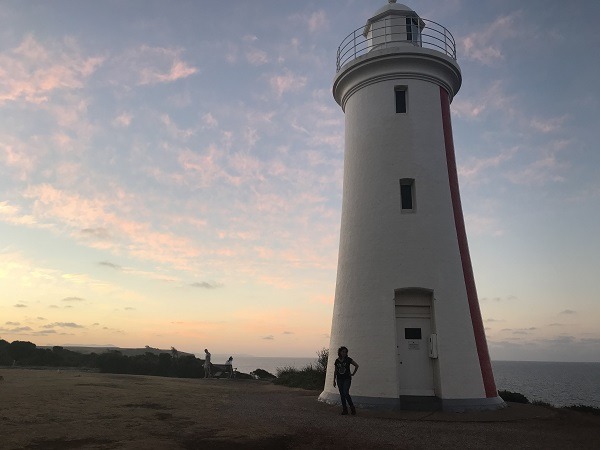 Penguin
Penguin is a quiet seaside town in the northern Tasmania, dedicated to all the seaside population and a celebration of the fairy (little) penguins found in the town. It has many huge statues of penguins, including the famous Big Penguin. The distance between Devonport and Penguin is just 30 kilometres.
Do you know that Australia has many big things around the country? There are some bizarre and beautiful things. Read Big things in New South Wales.
Wynyard
Wynyard is a rural town and a stop over while driving further on the road trip. Even though this town does not have many things to do, there is a Fossil Bluff lookout that one can stop for a scenic view. The distance between Penguin and Wynyard is 37 kilometres.
Table Cape
Table Cape is just 10 kilometres from Wynyard, is a volcanic plug and is the most remarkable natural wonder in Tasmania. The volcano is said to be 12 million years old and is located at 180 metres high.
Table Cape Lighthouse
The Table Cape lighthouse was exhibited in the year 1888 and is set on the cliff edge. The light in the lighthouse was originally powered by an oil burner, which was then converted to vaporised kerosene in 1913. Table Cape lighthouse is the only operating lighthouse that runs tours in Tasmania.
Edge of the World
The Edge of the World is a dangerous and wild place, with rough waves. It is a very mysterious place. The place is on the south of Arthur River and has a longest uninterrupted view of the ocean. The distance between Table Cape and Edge of the World is around 125 kilometres.
Stay at Arthur River Sunset Villas
A spectacular place for a relaxed and picturesque stay is the Arthur River Sunset Holiday Villas. It is centrally located and has the best views of sunset. Our stay at one of the villas was very comfortable and enjoyable.
Click here to check for prices on Booking.com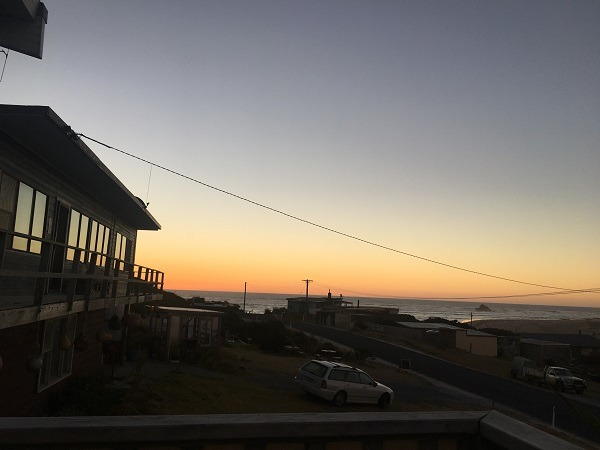 Cradle Mountain
Cradle Mountain, with the height of 1545 metres, is in the Cradle Mountain – Lake St Clair National Park. Visiting Tasmania is incomplete without visiting Cradle Mountain. The distance between Edge of the World and Cradle Mountain is around 250 kilometres.
Cradle Mountain was our last stop before returning to Launceston. The distance between Cradle Mountain and Launceston is about 140 kilometres.
Finishing point of the road trip – Launceston
Closing Notes
Even though Tasmania looks like a small island when compared to the mainland Australia, there is so much to see and do on this island. And driving on this island is absolutely beautiful as the landscapes are extremely pretty. The little towns and the character of those towns is what makes Tasmania so special.
How can you support me?
You know how much I love coffee, so you can buy me coffee – Buy me Coffee!
Or you can purchase from one of the below travel resources without any extra charge to you.

Travel Resources
Click to book your flight on Skyscanner.com
Click to book your accommodation on Stay22
Click to book a comprehensive travel insurance on Safety Wing
Click to book your tours and travels on Viator or GetYourGuide
If you liked this article and if it was helpful in your planning or traveling, do share, tweet, or pin this post.

Follow me on Instagram | Facebook | YouTube | Twitter | LinkedIn
Do you have a question? Or want any suggestions, and tips for travels, hikes and scuba dives? Use the Subscription box below to sign-up and get updates by email.
PIN for later reference