Strelitzia Villas, Best Homestay in Chikmagalur/Chikkamagaluru
Would you believe if I said that we were wearing sweaters at night during peak summer season in Chikmagalur / Chikkamagaluru? Yes, this district of Karnataka is an ideal place to visit during the summer season (March to May).
I have been to Chikkamagaluru many a times and this time I had an opportunity to stay at the best homestay in Chikmagalur / Chikkamagaluru. Strelitzia Villas is truly a plantation paradise amidst nature and in this post, I will talk more about this best homestay in Chikmagalur.
This article may contain affiliate links. For full information, please see our affiliate disclaimer here.
About Chikkamagaluru
Popular for spectacular landscapes and mountains, Chikmagalur or Chikkamagaluru is a district in the state of Karnataka. The region consists of the Western Ghats, forests like the Bhadra Wildlife Sanctuary and historical temples and monuments.
Note: Chikkamagaluru is also spelt as Chikmagalur and hence I will be using both interchangeably in the post.
As I mentioned above, Chikkmagaluru is an ideal destination for all year around. But if you really want to see the lush greenery, then try visiting the area after the monsoon season, which is between September and May.
About Strelitzia Villas, Best Homestay in Chikmagalur/Chikkamagaluru
One of the most beautiful, luxurious and homestays in Chikamagalur that I have stayed till date is at Strelitzia Villas. Located between the plantations, these luxurious homestays are designed and built by its owner Pradeep with a lot of passion and love.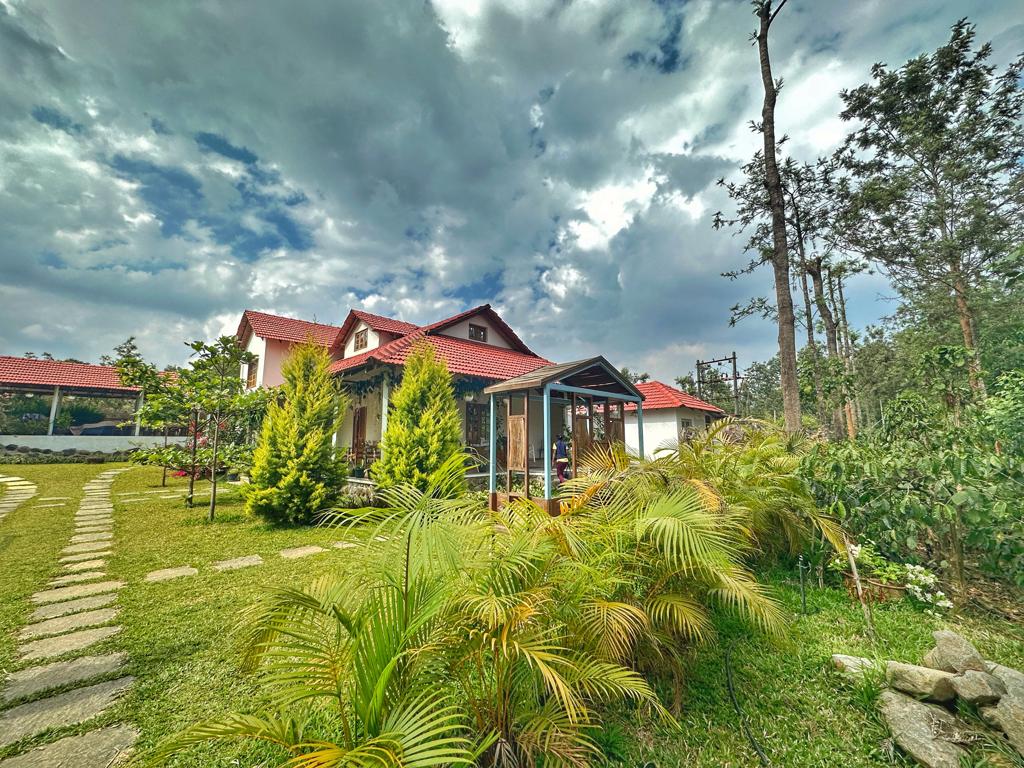 Rooms/Villas at Strelitzia Villas
Note that there are two homestays under the Strelitzia umbrella, Sienna and Cedar at one side of the highway, and Cicada on the other side of the highway. I stayed at Sienna even though I visited the other villas as well.
Sienna and Cedar at Strelitzia Villas
Sienna and Cedar at Strelitzia Villas have 2 villas with each of the villa containing either two or three duplex bedrooms. The bedrooms are spacious and are located on the ground floor. Each of these bedrooms have an attic, one with a King size bed and the other two with two single beds.
Cicada at Strelitzia Villas
Cicada Villas are more luxurious than the Sienna and Cedar Villas. They are created in similar ways as the Sienna and Cedar Villas but the rooms here are bigger and the villas have an overlooking view of an artificial pond created in the property.
Booking and Cost at Strelitzia Villas
The prices for Sienna villa starts from Rupees 36,000 and the prices for Cedar villa starts from Rupees 29,000.
There are three ways you can book these properties. You can book the villas:
Online on their official website.
By calling the owner of the properties (see contact details below).
Contact details of Pradeep (owner of the villas)
Name: Pradeep Rebello.
Contact Number: +91 94484 28274.
Ambience and Hospitality at Strelitzia Villas
The villas are absolutely amazing and they are built with a lot of passion. Each room is thought through very well and are aesthetically pleasing.
Pradeep who is the owner of the villas is very friendly and humble. He ensured that we were taken care and made sure we were comfortable during our stay.
Restaurant at Strelitzia Villas
The villas have an in-house restaurant that has a chef and helping staff. Prices of the stay include breakfast and both vegetarian and non-vegetarian food are served.
Amenities at Strelitzia Villas
Each of these rooms and villas come with private Jacuzzi. And they have free toiletries, tea/coffee makers, and secured parking area. These villas have porches where you can sit and relax witnessing a lovely sunset every evening.
There are many other amenities available at the properties such as:
Bonfire and barbeque
Camping
Star gazing (not guided)
Note: These activities involve extra costs.
Curated Experience(s) at Strelitzia Villas
Some of these experiences are at extra cost. Ensure to check with the homestay staff for the updated prices.
Plantation drive and trekking within the plantation
One of the amazing things to do is to take the plantation drive in the farm. Driving on the open 4 wheel drive is an experience by itself and is very thrilling.
You can also do short guided treks within the plantation. The path to the peak are rugged and provides the adventure required.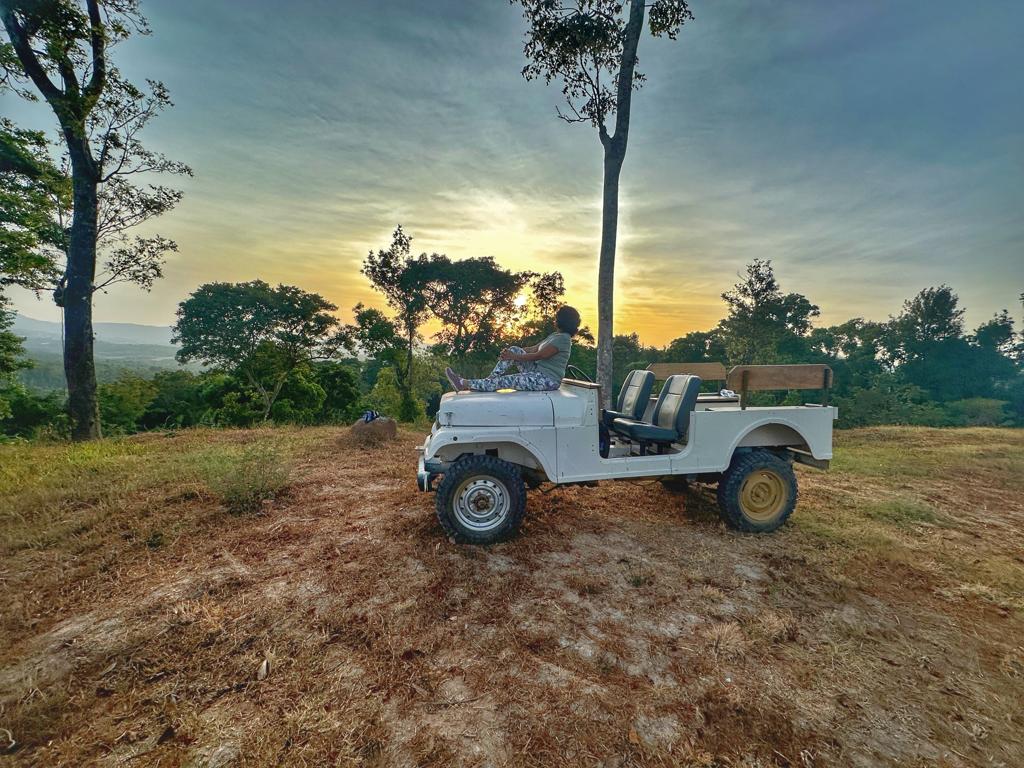 Bird watching and Star gazing
The plantations are home to many species of birds. It is perfect for photographers and bird watchers. The plantation also gets the naughty visitors monkeys sometimes.
As the villas have almost no light pollution at night, it is a great place to see stars and milky way in India. Note that this is self-guided and is not arranged by the homestay members.
How to get to Strelitzia Villas?
By Air
The closest airport to Strelitzia Villas is at Mangalore. With good connections to other major cities across India, Mangalore Airport is around 110 kilometres from the homestay. You can hire a taxi at Mangalore airport to the villa.
By Road
Strelitzia Villas is around 250 kilometres from Bangalore and by road the journey takes up to 5 hours. The route is towards Nelmangala and the roads are in very good condition. There are many eateries along the way where you can stop for food and quick breaks.
By Public transportation
Train – Kadur is the closest train station from Strelitzia Villas. The distance between Kadur and Strelitzia is around 50 kilometres. You can hire a cab from the train station to the homestay.
Buses – There are frequent buses between any major city and Chikkamagaluru. From Chikkamagaluru, you can either take an auto rickshaw or a taxi. The distance between the bus stop in Chikkamagaluru and Strelitzia Villas is around 14 kilometres.
Strelitzia Villas Frequently Asked Questions (FAQ)
Q: Where is Strelitzia Villas located?
Located in Chikmagalur district, Strelitzia Villas is just around 14 kilometres from Chikmagalur town centre and is a perfect homestay in Chikmagalur.
Q: How far is Strelitzia Villas from Bangalore?
Strelitzia Villas is around 250 kilometres and it just takes a little over 5 hours to reach.
Q: How do we get to Strelitzia Villas?
The best way to get to Strelitzia Villas is by a car or a taxi. The roads are very good and the property is just along the highway.
Q: What are the different kinds of rooms/villas available at Strelitzia Villas?
Strelitzia Villas have two properties under their umbrella. One property has two villas Sienna and Cedar and the other property is called Cicada.
| Name of villa | Number of rooms |
| --- | --- |
| Sienna | 3 bedrooms (with attic) in a villa |
| Cedar | 2 bedrooms (with attic) in a villa |
| Cicada | 2 bedrooms (with attic) in a villa and these villas are connected by a living room and a kitchen |
Type of villas in Strelitzia Plantations
Q: What are the charges for the rooms at Strelitzia Villas?
The villas at Sienna/Cedar start at Rupees 29,000 per night excluding the tax. These accommodate more than 5 people. See the websites for updated price.
Q: How do we book the villas at Strelitzia Villas online?
Yes, you can book the properties online on their official website or Booking.com.
Q: Does Strelitzia Villas have a Wi-Fi?
Yes, the villas have good Wi-Fi connectivity. These are perfect for workcation as the internet connectivity is very good at the property.
Q: What are the amenities available at Strelitzia Villas?
There are barbeque, bonfire and star gazing (not guided) amenities available along with free toiletries in the villas, private Jacuzzi, free breakfast, and many more.
Q: What are the experiences that you can get at Strelitzia Villas?
There are many activities that you can do at Strelitzia Villas, some of them to name are:
Plantation ride
Trekking within plantation
Bird watching
Star gazing – Note this is not guided but the sky is so clear that you can see so many stars.
Q: Are pets allowed at Strelitzia Villas?
Yes, pets are allowed.
Q: Are unmarried couples allowed at Strelitzia Villas?
Yes, unmarried couples are allowed.
Safety for Solo Female Travelers
Strelitzia Villas are very safe for solo female travelers. It is a gated property and the gates are usually locked at all times. Even though I traveled with another blogger friend, I can vouch that it is safe and comfortable for solo female travelers. There are female employees from the villages on the property. However, be cautious and know your surroundings at all times, especially at night.
Closing Notes
The Strelitzia Villas properties are that perfect looking luxurious homestay. They look straight out of a fairytale story with blue skies, green plantations and red thatched rooms. Absolutely stunning!
Note: This post is written in collaboration with Strelitzia Villas. But the views and the opinions expressed in this post are honest and unbiased.
How can you support me?
You know how much I love coffee, so you can buy me coffee – Buy me Coffee!
Or you can purchase from one of the below travel resources without any extra charge to you.

Travel Resources
Click to book your flight on Skyscanner.com
Click to book your accommodation on Stay22
Click to book a comprehensive travel insurance on Safety Wing
Click to book your tours and travels on Viator or GetYourGuide
If you liked this article and if it was helpful in your planning or traveling, do share, tweet, or pin this post.

Follow me on Instagram | Facebook | YouTube | Twitter | LinkedIn
Do you have a question? Or want any suggestions, and tips for travels, hikes and scuba dives? Use the Subscription box below to sign-up and get updates by email.
PIN for later reference