I must confess, prior to visiting Wai I had never heard of Wai before. In spite of being featured in many Bollywood (one of them acted by Shah Rukh Khan) and Marathi movies and series, this place had never been on my radar. It was during my collaboration with the Redstone Resort is when I came across Wai and I decided to head to this amazingly beautiful town located in Maharashtra.
PIN for later reference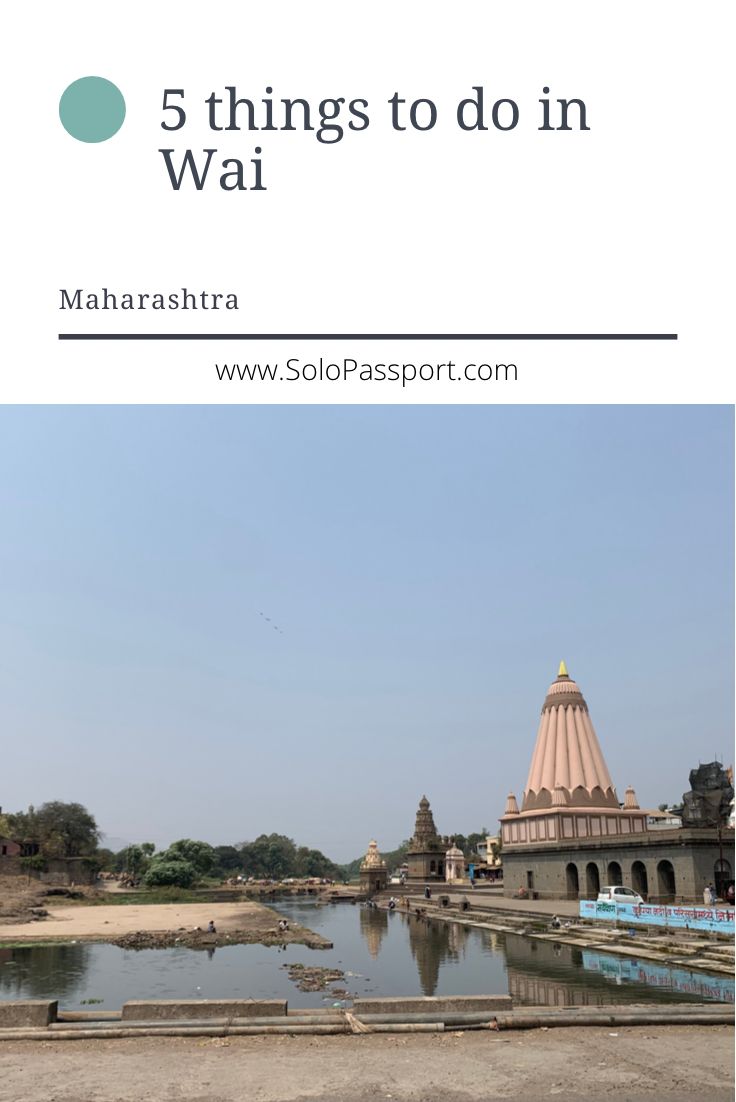 This article may contain affiliate links. For full information, please see our affiliate disclaimer here.
Disclaimers:
The prices mentioned in the post are valid only at the time of publication. Ensure to check the booking websites for up to date information and prices.
Opinions and views expressed solely mine and are unbiased. If the post is a collaboration, then they are specifically mentioned.
Ensure to check the relevant websites for up to date information on COVID protocols.
For any adventurous activities, please note that there is a risk that can be dangerous. Ensure to read the terms and conditions with individual agencies recommended and do them at your own risk.
For visas, it is best to see the embassy website for any changing rules.
About Wai
Wai is a small town in the Satara district of Maharashtra state in India. Known for its many temples, Wai is also called as the Dakshin Kashi. The town is located on the banks of River Krishna. Wai was a prominent town during the Peshwa era as two of the Maratha Brahmin families had its origin here, Rani Lakshmibai of Jhansi and Gopikabai, wife of Nansaheb Peshwa.
Wai has specifically become famous because of many Bollywood and Marathi movies that were shot here. Some of the notable movies are Chennai Express, Singham, Omkara, Ishqiya and Dabang.
5 things to do in Wai
Visit Dholya Ganapati
The Dholya Ganapati or Mahaganapati temple is located in Wai and the idol is made up of a single stone and is huge in size. Dholya means fatty and the idol is painted in orange. Situated on the banks of River Krishna, the temple is said to be more than 250 years old.
Entrance fee: Free.
Timings: Everyday 6 AM to 9 PM.
No photography is allowed inside the temple.
Eat strawberries with cream at Mapro gardens
Founded in 1959, the Mapro garden is owned by the Mapro food processing company. It is a great place to try the local strawberries with cream. The place is very popular and has a lot of repeat customers.
Timings: Everyday 9 AM to 8 PM.
Pay what you purchase.
Go back in time at Nana Fadnavis wada
On the banks of River Krishna at Menavali village, the Nana Fadnavis wada is one of the old and ancient mansions that was constructed in 1780. It was built by Nana Fadnavis, a minister and statesman of the Maratha empire during the Peshwa administration in Pune. The wada is a large structure with six quadrangles and a perimeter protection wall.
Wada in Marathi means a mansion with inner courtyards.
Entrance fee: INR 30 per adult.
Timings: Everyday 9 AM to 6:30 PM.
Photography is allowed.
There is no free parking and the parking costs around INR 50.
The wada has a lot of information boards and there are also volunteers who provide and explain the various rooms of the wada.
Pray at Kashi Vishweshwar temple
Just opposite to Dholya Ganapati is the Kashi Vishweshwar temple. Situated on the banks of River Krishna, the temple is a very ancient temple dedicated to Lord Shiva. The main feature of the temple is the Nandi which is made up of the same stone as that of the Dholya Ganapati.
Entrance fee: Free.
Timings: Everyday 6 AM to 9 PM.
Photography is allowed.
Pose in front of the Menavali ghat
One of the most beautiful places in Wai is the Menavali ghat that is situated behind the Nana Fadnavis wada. There are two temples on the ghat, dedicated to Lord Vishnu and Lord Shiva. The temples were traditionally built on ghats. A wada, a ghat and a temple was typical of Peshwa era. There is also a bell house at the ghat that houses six hundred and fifty grams bell. The bell was captured by Chimaji Appa from a cathedral in the Portuguese fort at Bassein.
Did you know that the climax scene of Swades (Bollywood movie) was shot at the Menavali ghat?
Entrance fee: Free.
Timings: Everyday and it can be visited anytime.
No photography is allowed. I am not too sure why because there are many movies that are shot in this ghat and the photographs/videos are everywhere on the internet.
Auto driver details in Wai
I hired an auto to commute within Wai and my auto driver was really nice. He took good care of me and was with me till the bus arrived. Below are his contact details:
Name: Hemant Chowdry.
Contact number: +91 95958 44522.
It is best to talk to the drivers and locals in Marathi but if you do not know Marathi then Hindi is the next best language.
Stay at Wai
The Redstone Resort is a great place to stay in Wai. The resort is around 18 kilometres (20 minutes drive) from the main town and is amidst nature. It is a resort that provides luxury stay at affordable prices.
How to get to Wai?
Flight
The closest airport for Wai is the Pune International airport. The airport is around 95 kilometres from the town and one needs to either drive or take a public transport from the airport. Many domestic and international airlines operate from Pune International airport. Some of the affordable airlines are SpiceJet and Go Indigo airways.
The Mumbai International airport is around 230 kilometres.
Driving from Pune
Pune is around 85 kilometres from Wai. The journey by road takes around 2 hours and the route has toll roads.
Driving from Mumbai
Mumbai is around 230 kilometres from Wai. The journey by road takes 4 hours 30 minutes and the route is on the Bangalore – Mumbai highway.
Public transportation
There are frequent government and private operated buses between Pune/Mumbai and Wai. Best to book the that buses that are run by Maharashtra State Road Transport Corporation (MSRTC). I traveled to Wai on a private bus, operated by Shreyas travels and the cost for one way ticket is around INR 410. The journey by bus is about 2 hours.
Safety for solo female travelers
I traveled to Wai solo and I loved traveling in the town. The people are nice and I had no issues whatsoever. Wai is surely one of the safest places I have traveled to in India. However, like any other place, be careful, especially after sunset.
Closing Notes
I am in love with Wai. The place, temples, landscapes and the people were so nice and beautiful. I hope I can go back and stay there for a longer time. Wai is definitely a lovely and relaxing getaway from Pune and Mumbai.
How can you support me?
You know how much I love coffee, so you can buy me coffee – Buy me Coffee!
Or you can purchase from one of the below travel resources without any extra charge to you.

Travel Resources
Click to book your flight on Skyscanner.com
Click to book your accommodation on Stay22
Click to book a comprehensive travel insurance on Safety Wing
Click to book your tours and travels on Viator or GetYourGuide
If you liked this article and if it was helpful in your planning or traveling, do share, tweet, or pin this post.

Follow me on Instagram | Facebook | YouTube | Twitter | LinkedIn
Do you have a question? Or want any suggestions, and tips for travels, hikes and scuba dives? Use the Subscription box below to sign-up and get updates by email.
PIN for later reference