I had heard so much about the Bare Island. I had heard how beautiful the diving at this place was and how fascinated every diver was when they dived at this site. Honestly, diving at Bare Island was not planned for me. I just wanted to do a shore dive and I had booked a guided shore dive during my Christmas break. That morning I was told by the dive centre staff that I would be diving at Camp Cove and that the visibility at Camp Cove had been amazing. Anyway long story short, at the last moment, Camp Cove was canceled and Bare Island was in the picture.
PIN for later reference
Please note: This post may contain affiliate links which means I may earn a commission if you make a purchase by clicking a link on this post. This will be at no additional cost to you. Affiliate links help me keep this website up and running. Thank you for your support.
Where is Bare Island?
Bare Island is a heritage listed islet in La Perouse area of Sydney. Located in the Botany Bay National Park, Bare Island was home to former war veterans. The island is connected by a timber footbridge to the mainland of La Perouse.
Did you know that the bridge that connects Bare Island and La Perouse mainland was featured in Mission Impossible 2 where Tom Cruise rides his bike?
Note: There are no cafes near the dive site. So ensure to take lunch with you before going to Bare Island.
How to get to Bare Island?
Driving
The distance between Sydney Central Business District (CBD) and Bare Island is around 17 kilometres (20 to 30 minutes drive). There is a street car park (4P) close to the Bare Island where one can park their car.
Note: The parking ticket is FREE for 4 hours. La Perouse can get very crowded especially at weekends.
Public transport
Bare Island can be reached easily from Circular Quay bus stop.
Bus – Anzac Pde Terminus is the closest bus stop to Bare Island. The distance between the Anzac Pde Terminus bus stop and the Bare Island is just 6 minutes (500 metres) walk. There are frequent buses between Circular Quay bus stop and Anzac Pde Terminus. The bus journey is around 50 minutes.
The bus to La Perouse (bus numbers 392, 394 and 399) is the one that goes to the Anzac Pde Terminus.
More up-to-date information on the bus route and timings can be found on the Transport for NSW.
Credit/Debit or Opal transportation cards can be used to pay the fare on public transport in Sydney.
For things to do in Sydney, read Ultimate travel guide to Sydney.
Dive Site at Bare Island
The weather was really bad when I dived at Bare Island. The visibility was very weird as sometimes it was awesome and other times it was really bad and murky. In spite of it, I had a nice dive as I focused solely on my buoyancy. I tried my best to not touch the ocean floor and hover just above it.
The dive site has lot of weed and sand. But once deeper into the ocean, there are plenty of coral reefs that one can see. The coral reefs are very pretty and are of every colour possible. Note: Beware of your fins when you swim around the corals as they could touch and destroy the coral reefs.
Logistics
Type of Dive: Shore dive.

The dive site is a bit of distance (500 metres) from the car park and it is quite a strenuous walk. one also needs to get down a set of 6 to 7 stairs to go under the bridge. The gear has to be worn and be carried to the dive site.
The entry point has a lot of rocks and it can be tricky to get into and out of the water.

Beware of the fishing lines as there are plenty of people fishing.
Take a torch with you for diving. This is the best way to spot the micro marine life.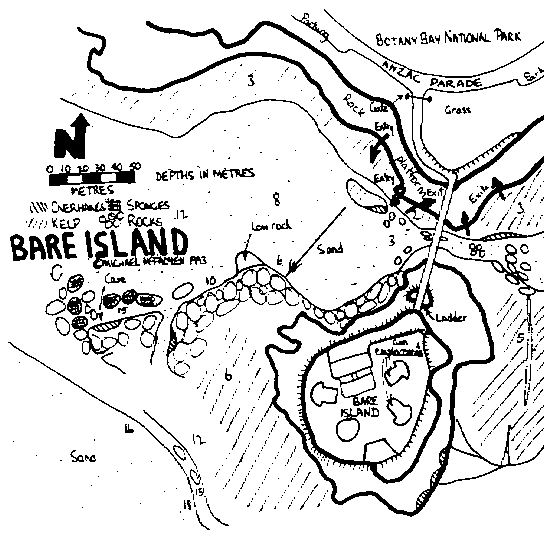 Depth: 13 to 15 metres.
Visibility: I have been told that this site has the best visibility on good days. However, I had really bad visibility of just 3 to 5 metres. Note: The visibility depends mainly on the conditions of the ocean and the weather.
Ideal for: All level divers including the beginners but the entry point depends on the level of the divers. The entry point that we entered was for experienced divers.
Wet suit: Yes (7 mm thickness) advised. The Australian waters especially in Sydney are a bit chilly.
Current: Mild to Moderate current when I dived. Note: The current can cause fatigue.
Facilities
There are toilets available opposite to the bus stop. But these are out of order and are closed. Also, there are no changing rooms and one needs to change either in their vehicles or behind the closed toilets.
Marine Life
I was informed that the marine life here is abundant and is amazing. Ranging from nudi branch to the red Indian fishes, the marine life is great. My diving instructor said that there are Wobbegong sharks, octopuses, groupers and sting rays. However, I did not spot any of these and the only ones that I saw were the goat fishes, a nudi branch and lots of colourful coral reefs.
The best time to dive is in the mornings as there is less crowd and the visibility is much better.
Dive Centre and Cost
Cost: Guided shore dive with full gear and 1 Nitrox tank cost AUD 155. I dived with a Nitrox tank. Note, the dive centre provides transportation to and from the dive site.
Equipment: One Nitrox tank, BCD, weights, a regulator, 7 mm wet suit, mask with an inner vest, fins, and boots.
Booking: via phone 02 9369 3855 or their website.
My instructor that day was very knowledgeable but was not the friendliest. He was not bad but not one of the best people I have dived with. I did not enjoy diving with him much. But he was aware of the dive site and had dived there before.
The best thing about diving with Dive Centre Bondi was that we had to clean our gear when we got back. This helps the divers in learning how to maintain the equipment in case they purchase their own equipment in future.
I loved Dive Centre Bondi and diving with them. But the only drawback that I saw was that:
It is very expensive to do a shore dive when compared to other dive centres. Some of the dive centres like Dive Centre Manly offer free guided shore dive for members (becoming a member only cost AUD 100 for a year that provides unlimited access to shore dives) but Dive Centre Bondi charge AUD 75 for a guided shore dive. So, it makes it difficult to dive with them Dive Centre Bondi every weekend.
Is it safe for solo female travelers?
As a rule in Scuba diving, it is always best to dive with a buddy and if you are a newbie like me then an instructor works best. So, always buddy up with some more experienced than you. If you are going with a dive centre, then there is nothing to be worried about as the safety is taken care by the centre.
Traveling to and from the dive site/centre is extremely safe for solo female travelers. Sydney, in general, is a very safe city. But like any other place, be cautious about your surroundings.
Closing notes
I would love to dive at Bare Island again when the weather is better so I can see more marine life than what I saw on the day. I have been diving at different places around Sydney and diving at Shelly Beach, Camp Cove and Clifton Gardens are my favourites.
PIN for later reference