Travel guide to Magnetic Island
Who does not love clear blue water and an island life? A relaxed vacation with abundant and unique wildlife is what you get when you visit Magnetic Island. It was one of those times where I was a little low in my life and I wanted to travel to a very exotic but not so expensive place. During my research of places to visit in Queensland, I stumbled upon Magnetic Island.
Australia is known to have such spectacular islands. Refer Islands in Australia section to know about such breath taking islands.
PIN for later reference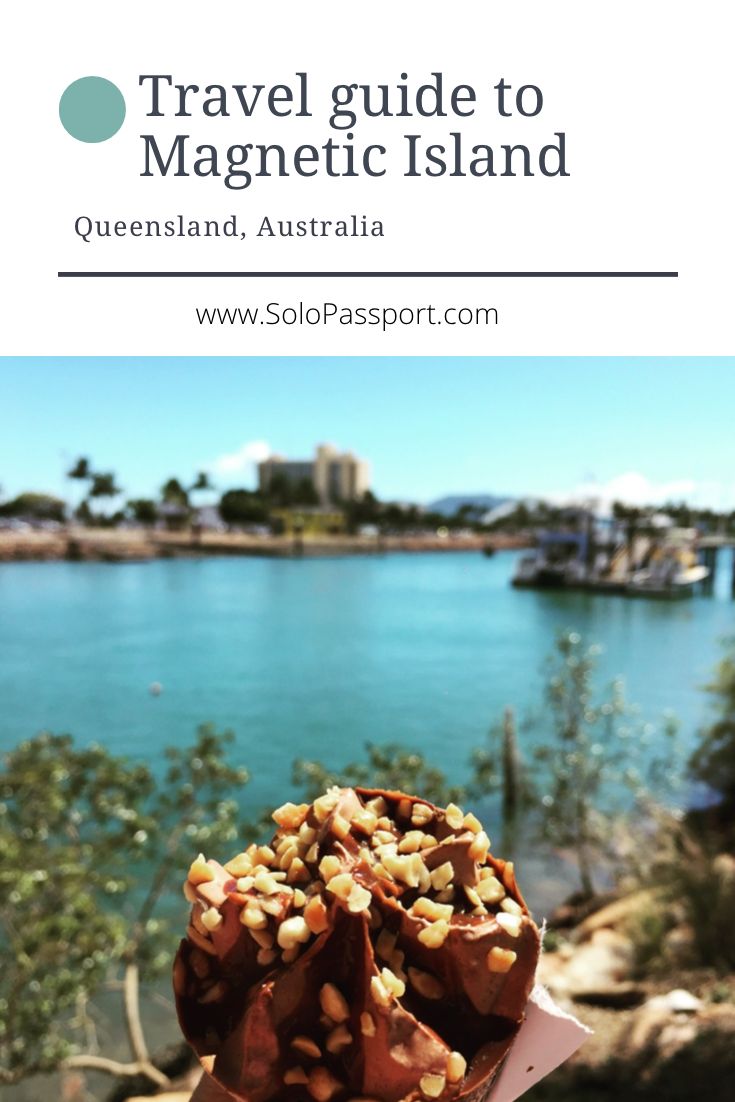 This article may contain affiliate links. For full information, please see our affiliate disclaimer here.
Disclaimers:
The prices mentioned in the post are valid only at the time of publication. Ensure to check the booking websites for up to date information and prices.
Opinions and views expressed solely mine and are unbiased. If the post is a collaboration, then they are specifically mentioned.
Ensure to check the relevant websites for up to date information on COVID protocols.
For any adventurous activities, please note that there is a risk that can be dangerous. Ensure to read the terms and conditions with individual agencies recommended and do them at your own risk.
For visas, it is best to see the embassy website for any changing rules.
About Magnetic Island
Offshore from the city of Townsville is Magnetic Island. The island is accessible by ferry from Townsville and the distance between the wharfs is just 8 kilometres. Also known as Yunbenun in Wulguru language, Magnetic island is famous for its coral reefs and is a national park full of wildlife.
70% of the island is a national park and it is estimated that there are more than 800 koalas. The highest point on the island is Mount Cook, at 497 metres above sea level. There are five villages on the island, Horseshoe Bay, Arcadia, Nelly Bay, Picnic Bay and West Point.
Did you know that tourism on Magnetic island began with the Butler family who settled on the island in 1877? They established a small ferry service and began their small tourist venture.
The best time to visit Magnetic island is during the autumn (March to May) and winter (June to August) seasons as the days are cooler and pleasant. It is best to stay on the island for at least two nights to see and explore.
About Townsville
Townsville is a coastal city in the state of Queensland in Australia. Popular for its beaches and the reef from the Great Barrier Reef, Townsville is a very beautiful city to visit in Queensland.
How to get to Townsville?
Flights
Townsville has a domestic airport which is connected to main cities and towns in Australia. And Townsville airport is the closest airport to Magnetic island. Jetstar is the best airline for budgeted travelers.
One needs to either take a shuttle bus or a taxi to Townsville Ferry terminal to catch a ferry to Magnetic island.
Driving
Townsville is in the north of Queensland. The distance between Brisbane and Townsville is around 1330 kilometres and the drive along the coast by car takes 15 hours. The route has toll roads.
If you love road trips, then a road trip along the east coast of Australia is a must do.
Public transportation
Bus – Operated by Sunbus, there are buses to Townsville. The connectivity is between many towns or cities to Townsville.
Train – There is a direct train from Brisbane to Townsville and it runs 5 times a week. The journey is around 18 hours.
Ferry service to Magnetic island
Run by Sea Link, Magnetic Island Ferries and Fanta Sea Cruising, there are very frequently ferries that operate between Townsville and Magnetic Island. The ferry ticket cost about AUD 13 one way.
Travel within Magnetic island
Barbie cars
One of the cool and cutest things to do in Magnetic island is to hire a Mini Moke, or adorably known as Barbie cars. These are cars that are without a top and can be hired from Tropical Topless at AUD 80 per day.
Cars and motor bikes
Cars and motor bikes can also be hired on the island. There are many operators that rent out the vehicles and these are around Nelly Bay. Cars can be hired from AUD 69 per day.
If you wish to get a car from Townsville, then the only ferry operator that allows cars to be ferried across is the Fantasea Cruising.
Public bus
The island also has public buses. These are easy and convenient even thought they are not as frequent. These are operated by Sunbus.
Taxi service
Taxi service is very limited on Magnetic island as there are only 3 taxis available. There is an Uber service and the taxi can be booked on Uber app.
Things to do in Magnetic island
Snorkel at Nelly Bay
Snorkeling in the Great Barrier Reef (GBR) is the number one thing to do when visiting any islands off the coast of Queensland. And similarly, snorkeling at Magnetic Island is the first and best thing to do. Snorkeling can be done in Nelly Bay and other places around the island. There are a number of snorkeling trails where one can spot marine life. The marine life is abundant and one can spot many and unique kinds of fishes.
There is a nursery of Tiger sharks between the island and the mainland. So do look out for them when snorkeling.
You can hire snorkeling kits from the accommodation you are staying.
Spot the wildlife
As mentioned above in the post, the island has more than 800 koalas (according to 2013 survey) and 70% of the island is a national park. Koalas are easily seen when you look up on the trees. I spotted them just while walking on the road. You can also cuddle a koala. Other than koalas, the island is home to wallabies, possums, bats and echidnas.
Note: Crocodiles have been spotted on the island and hence be careful as to where you visit.
Step into the history
The island is home to some of the heritage-listed sites that date back to World War II. On the eastern side of the island is Fort Complex which was built in the year 1943 during the World War II. Another heritage listed site is the Picnic Bay Jetty that was built from 1959 to 1977. A walk around these sites are a must when visiting the island.
Shop for souvenirs
Magnetic Island also has many shops where one can purchase local products and souvenirs. There are antique and gift shops, such as Batuta Gallery and Horseshoe Bay flea markets, that sell some beautiful things. So definitely pop at those shops to buy gifts to take back home.
Visit Maritime museum in Townsville
Established in 1986, the Maritime museum displays the doomed ship SS Yongala. The museum also displays many artefacts and model ships. It is open for public everyday except on Sunday, between 9:30 AM and 2 PM. There is an entry fee of AUD 10 per adult to visit the museum.
The Victoria bridge in Townsville is also a remarkable landmark. Opened in 1889, it is a heritage listed swing bridge in the Central Business District (CBD).
Stay at Magnetic Island
Magnetic Island is a holiday and popular destination among Australians. The island has many resorts and hotels that cater for all kinds of travelers. Peppers Blue is a great option for luxury stay.
Bungalow Bay, formerly part of Youth Hostels Association (YHA), has some affordable stay options on Magnetic Island for backpackers and budgeted travelers.
Safety for solo female travelers
I traveled to Magnetic Island and Townsville alone and I had no issues whatsoever. The island and the city are both very safe for solo female travelers and are probably the safest places to travel alone. I highly recommend these places if you wish to be solo. However, like any other place in the world, be cautious, especially at night.
Closing Notes
I fell in love with Magnetic island. Unfortunately, I was there only for a few days as I had very little time. I do hope to get back there someday and stay on the island for a longer time. Even though Magnetic island is not my top choice if I had to select an island to visit in Australia or Queensland, I still feel that this island is worth visiting.
How can you support me?
You know how much I love coffee, so you can buy me coffee – Buy me Coffee!
Or you can purchase from one of the below travel resources without any extra charge to you.

Travel Resources
Click to book your flight on Skyscanner.com
Click to book your accommodation on Stay22
Click to book a comprehensive travel insurance on Safety Wing
Click to book your tours and travels on Viator or GetYourGuide
If you liked this article and if it was helpful in your planning or traveling, do share, tweet, or pin this post.

Follow me on Instagram | Facebook | YouTube | Twitter | LinkedIn
Do you have a question? Or want any suggestions, and tips for travels, hikes and scuba dives? Use the Subscription box below to sign-up and get updates by email.
PIN for later reference