Road trip on the Legendary Pacific Coast
Do you fancy a delightful road trip? Especially along the coast passing through stunning beaches and coastal towns? Then the Legendary Pacific Coast drive on the east coast of Australia is surely for you. There are many remarkable experiences and moments you can have visiting the places along the way. In this post, you will find the details of this amazing drive and the stop overs.
PIN for later reference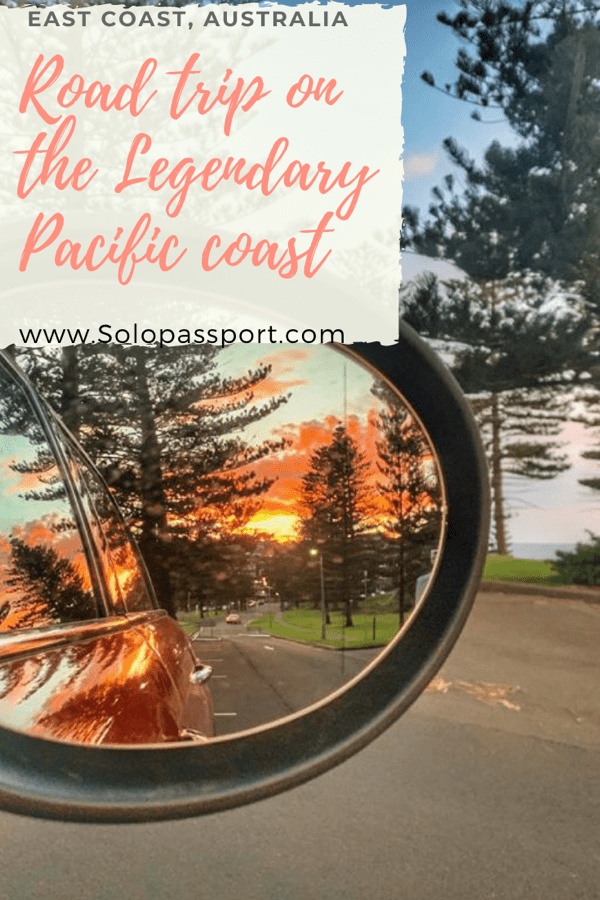 This article may contain affiliate links. For full information, please see our affiliate disclaimer here.
About Legendary Pacific Coast
The Legendary Pacific Coast is a drive along the east coast of Australia, between the capital cities Sydney and Brisbane. It is a portion of the entire road trip on east coast of Australia.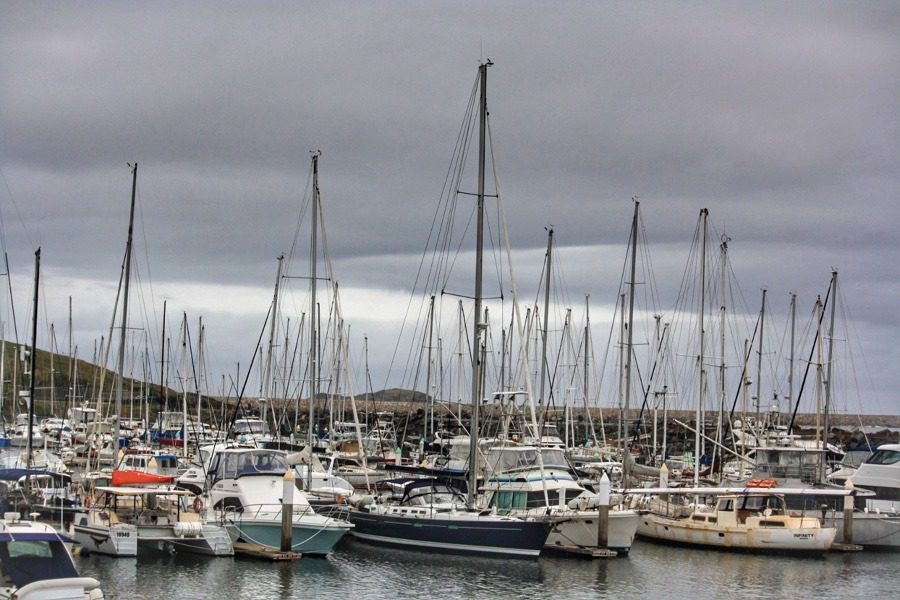 Important information
A few things to remember before embarking on this amazing journey are:
The distance between Sydney and Brisbane is around 1160 kilometres.
To drive continuously on this route without any stops takes around 14 hours.
The time zones change between the states.
I have driven this road trip in bits and pieces and not everything at once.
You need at least one week to drive from Sydney to Brisbane and enjoy the places in between.
The best time to drive and visit the places is in the spring season (between September and November) as the weather is pleasant.
There are plenty of fuel stations on the way.
You can rent self driven cars easily in Australia. Ensure to hire the car with zero excess and full insurance. All you need is a valid international driver's licence (in English) and a credit card to hire a car in Australia.
Places on the Legendary Pacific Coast
The Legendary Pacific Coast touches two states of Australia, New South Wales (NSW) and Queensland (QLD). The drive is along the coast and there are plenty of coastal towns to stop and admire. I am listing only the famous and popular spots on the way.
New South Wales (NSW)
Sydney
Sydney is the capital city of NSW. With spectacular coastline, the city of Sydney is one of the most beautiful cities I have seen so far. The city has amazing vibes for tourists and travelers, and it caters for all kinds of travelers, ranging from backpackers to the luxury travelers. Sydney is the starting point for the road trip on the legendary Pacific Coast.
Starting point – Sydney.
There are plenty of things to do in the city and you need at least one week to see most of the things. From museums, including the Museum of Contemporary Art (MCA) and Powerhouse Museum, to coastal walks, the city has it all.
The most happening and popular hangout places in Sydney are Circular Quay and Darling Harbour. Circular Quay is home to the famous Sydney Opera House and the Harbour Bridge. Did you know that you can also climb the Sydney Harbour Bridge?
Read Ultimate travel guide to Sydney for all the details and things to do. If you have 10 days to spend in Sydney, then read the 10 days itinerary of Sydney. But if you are short on time and have just a day, then read 24 hours in Sydney to know about the things that you can do in one day.
Hunter Valley
The distance between Sydney and Hunter Valley is 250 kilometres. And Hunter Valley is our next stop on the road trip. Known for its tasty wines and spectacular wineries, Hunter Valley is a region in NSW.
The region mainly has four cities:
Lake Macquarie,
Newcastle,
Maitland and
Cessnock.
Even though there are many things to do in the Hunter Valley region, the main reason everyone visits the Hunter Valley is for their wines and chocolates.
Sydney to Hunter Valley – 250 kilometres.
Port Stephens
Next on the road trip is Port Stephens. The distance between Hunter Valley and Port Stephens is just 120 kilometres and takes 2 hours to drive. Port Stephens is a very interesting place as it is known for its sand dunes.
The main things to do at Port Stephens is to sand board and walk to the Tomaree Head summit. If you love dolphins, then you can also go on a boat tour to see dolphins. For more things to do in Port Stephens, read a weekend at Port Stephens and Nelsons Bay.
Hunter Valley to Port Stephens – 120 kilometres.
Coffs Harbour
A very well known destination among the family vacationers is the Coffs Harbour. It is a coastal city with pristine beaches. Coffs Harbour is also famous for the Big Banana (one among the 11 big things to see in NSW).
You can also visit the Dolphin Magic Marine Park to learn about dolphins, seals and reptiles. The distance between Port Stephens and Coffs Harbour is 390 kilometres and it takes 4 hours to drive.
Port Stephens to Coffs Harbour – 390 kilometres.
Byron Bay
My most favourite coastal town along the east coast is Byron Bay. With hippie vibes and amazing surf beaches, Byron Bay stands out. There are plenty of things to do at Byron Bay, including the relaxing yoga and a pampered massage.
The town is also famous among the scuba divers because it is home to one of the best dive sites in Australia, the Julian Rocks. The distance between Coffs Harbour and Byron Bay is 235 kilometres and it takes 2 hours 30 minutes to drive.
Coffs Harbour to Byron Bay – 235 kilometres.
Are you short on time? And if you just have one day, then read one day at Byron Bay.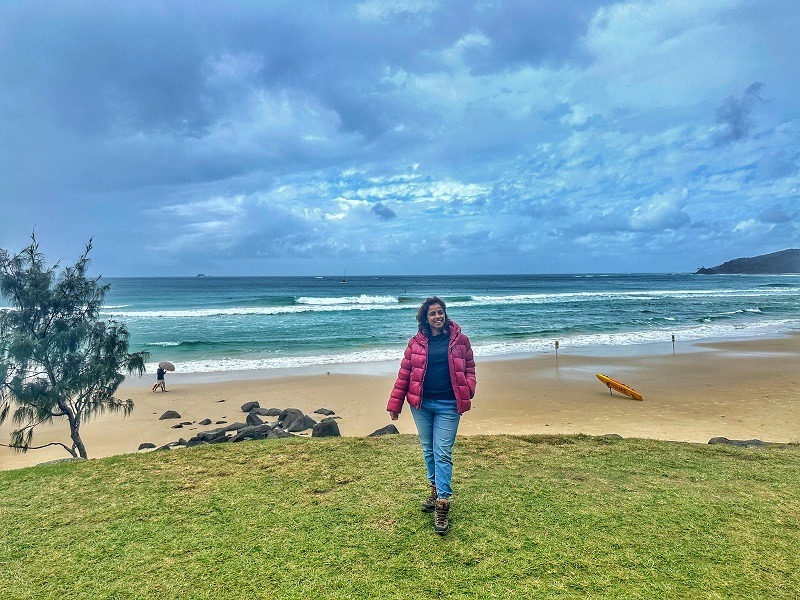 Queensland
After Byron Bay, we cross over to Queensland (QLD) state.
Gold Coast
Gold Coast is the party capital of Australia. Famous among the tourists and backpackers, this party town has so many pubs and discs.
Gold Coast has many theme and amusement parks and hence is also the capital for theme parks in Australia. The distance between Byron Bay and Gold Coast is just 90 kilometres and it takes an hour to drive.
Byron Bay to Gold Coast – 90 kilometres.
Brisbane
The last stop on the road trip is Brisbane. Brisbane is the capital city of Queensland. Giving close competition to Sydney and Melbourne, Brisbane is slowly becoming more famous among the locals. With plenty of things to do in Brisbane, the city also has plenty of bars and restaurants for food lovers. The distance between Gold Coast and Brisbane is just 80 kilometres and it takes only an hour to drive.
Gold Coast to Brisbane – 80 kilometres.
Finishing point – Brisbane.
Closing Notes
The drive from Sydney to Brisbane is definitely worth it as there are many things to see and do along the way. I highly recommend driving the Legendary Pacific Coast while visiting Australia.
Are you now motivated to do this road trip? Or do you have any more questions? Write to me on Solopassport@gmail.com.
How can you support me?
You know how much I love coffee, so you can buy me coffee – Buy me Coffee!
Or you can purchase from one of the below travel resources without any extra charge to you.

Travel Resources
Click to book your flight on Skyscanner.com
Click to book your accommodation on Stay22
Click to book a comprehensive travel insurance on Safety Wing
Click to book your tours and travels on Viator or GetYourGuide
If you liked this article and if it was helpful in your planning or traveling, do share, tweet, or pin this post.

Follow me on Instagram | Facebook | YouTube | Twitter | LinkedIn
Do you have a question? Or want any suggestions, and tips for travels, hikes and scuba dives? Use the Subscription box below to sign-up and get updates by email.
PIN for later reference