Byron Bay is such a beautiful coastal town and is the most popular destination in Australia, especially on the East Coast. The town has plenty of things to do and with the pristine coast and the hippie vibe, Byron Bay is my favourite town too.
One day in Byron Bay is definitely less for the town and I recommend spending at least 4 to 5 days enjoying and exploring the town. But if you just have one day, then you are at the right place. I will try to recommend and suggest the itinerary and the things that can be done in one day at Byron Bay.
For a complete guide to Byron Bay, read my post Travel guide to Byron Bay.
PIN for later reference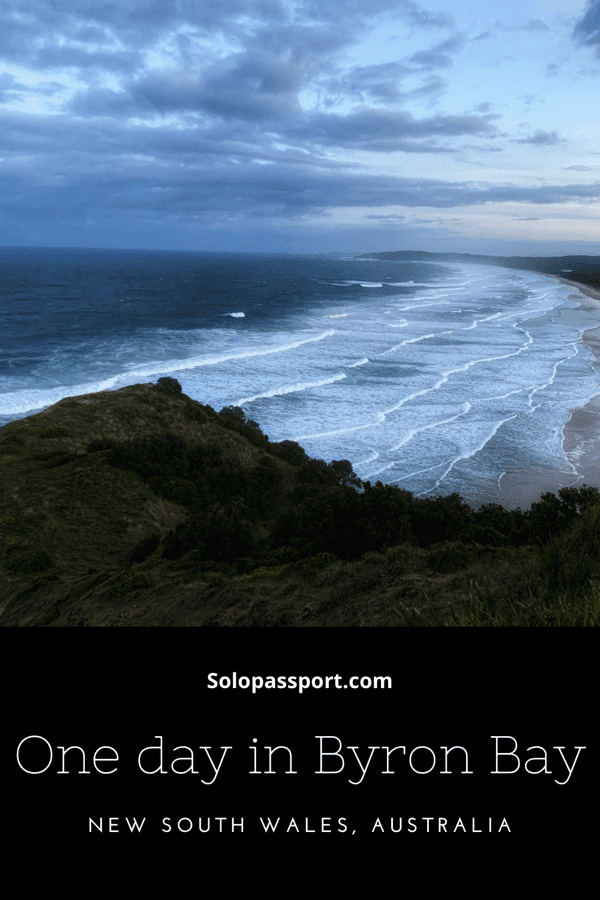 This article may contain affiliate links. For full information, please see our affiliate disclaimer here.
Where is Byron Bay?
Byron Bay is a coastal town in New South Wales (NSW) state of Australia. It is in the north coast of the state and is more close to Brisbane than Sydney. Known for its beautiful surf beaches and the hippie vibes in the town, Byron Bay should definitely be on your list of places to see when you are traveling in Australia.
How to get to Byron Bay?
By Road
Even though Byron Bay is in the New South Wales (NSW) state of Australia, the town is closer to Brisbane than Sydney. The distance between Byron Bay and Sydney is about 770 kilometres north of Sydney and by road, the journey takes about 8 hours 30 minutes.
Note that there are toll roads in between.
The distance between Byron Bay and Brisbane is shorter than the distance between Byron Bay and Sydney. The drive is just around 160 kilometres and it takes only a little more than 2 hours to reach.
By Air
The fastest and easiest way to get to Byron Bay from any city is by flying into the town. There is a domestic airport at Ballina, which is around 30 kilometres from Byron Bay Central Business District (CBD).

Jetstar and Tigerair is the budgeted airline.
Virgin Australia have regular flights from the other major cities and Ballina airport.
Click here to check and compare flight prices on Skyscanner
Shuttle buses between Ballina airport and Byron Bay CBD
There are public buses that operate between the Ballina domestic airport and Byron Bay CBD. It is a cheaper option when you are traveling solo but it takes almost an hour to reach the CBD.
The quickest way to go between the Ballina domestic airport and Byron Bay CBD is by taking a shuttle bus. Even though it is pricey (AUD 30 per person for one way), it is a door to door service which means that you will be dropped at your accommodation.

Contact details of the shuttle are:

Phone number: 0414 660 031.
Note: If you are more than one person, then taking an Uber/Ola cabs between the Ballina airport and Byron Bay CBD is the best way to go. The cost is around AUD 60 to 70 for one way taxi ride and this is better than taking the shuttle buses.
By Public Transport
The cheapest way to get to Byron Bay from Sydney is by taking a train. Just costing between AUD 60 to AUD 90 one way, the train journey is surely the most economical way. But be prepared as the journey is around 14 hours.
One day in Byron Bay
Note: The itinerary listed below does not include the flights and there is an assumption that you have landed in Byron Bay the previous day.
Morning – Sea Kayaking/Whale Watching Tour
As you start your day, have a nice and beautiful breakfast at one of the cafes in Lawson or Jonson streets. There are heaps of quaint and cosy cafes on these streets that serve delicious coffee and breakfast. My favourite breakfast was the corn fritters at Mokha on Lawson café.
Once you have the breakfast, I suggest the sea kayaking. It is a great way to be in the waters and see some friendly marine animals, especially the dolphins. There is nothing like kayaking with the dolphins or whales (during the whale migratory season). I have experienced this during my travel in Kaikoura in New Zealand and I must say it is magical.
If you are not into kayaking, take a whale watching tour to go see the whales from a boat. It is spectacular to see them during the migratory season. The whale migration season starts from May and ends at November. During this season, the whales travel from south to the north on the east coast of Australia and then go back down south after the mating/birth season.
For a guide on seeing the Humpback whales in Sydney, read my post Whale watching in Sydney.
Afternoon – Cape Byron Lighthouse/Solar Train Ride
For lunch, head over to the Orgasmic Falafel and have their delicious and beautiful falafels. It is a small place but the falafels are totally worth it. Try out their Falafel plate with humus, salsa and salad.
Note: The food at Orgasmic Falafel is expensive.
After lunch, go for a walk to the Cape Byron Lighthouse. The walk from CBD to the lighthouse is around 2.4 kilometres walk (one way) and is mostly along the coast. It is refreshing and a popular walk around the area. With spectacular views of the ocean and the lighthouse, the walk is totally worth doing. The Cape Byron Lighthouse is also a great place to see the whales and dolphins.
If you are not up for walking, then definitely take the 10 minutes solar train ride between Byron and North beaches. The train is the world's first solar train and is a unique experience at Byron Bay. The tickets can be purchased onboard and the cost is AUD 5 per adult one way.
Evening – Massage and Sunset at the beach
Head to one of the massage centres and have a relaxing and therapeutic massage. It is worth ending the day with a lovely massage from a trained masseur. I had massages at multiple places, one was right on the Main beach, second was from Byron Bay massage clinic and the third was at a Thai massage centre next to the Success Thai restaurant. My favourite was at the Thai massage centre as it was value for money.
After a massage, head to one of the beaches where you can see the mesmerising sunsets. The sunset at Byron Bay is absolutely gorgeous and there is nothing else you would rather do than end the day with the pretty and dramatic sky colours.
Finish the day with a tasty dinner. I suggest either the Mexican restaurant Miss Margarita or the restaurant at Beach Hotel. Both are amazing and the restaurant at Beach Hotel has lively and happening music.
Closing Notes
As I mentioned, one day in Byron Bay is definitely not sufficient to see and cover everything the town has to offer. The town has so many things and is great for people who love outdoors, especially the water activities. I would at least spend 5 to 6 days in Byron Bay to enjoy the town and all the things that the town can offer.
For a memorable road trip and all other coastal towns, including Byron Bay, in the east coast of Australia, read my post "The ultimate road trip in the east coast".
How can you support me?
You know how much I love coffee, so you can buy me coffee – Buy me Coffee!
Or you can purchase from one of the below travel resources without any extra charge to you.

Travel Resources
Click to book your flight on Skyscanner.com
Click to book your accommodation on Stay22
Click to book a comprehensive travel insurance on Safety Wing
Click to book your tours and travels on Viator or GetYourGuide
If you liked this article and if it was helpful in your planning or traveling, do share, tweet, or pin this post.

Follow me on Instagram | Facebook | YouTube | Twitter | LinkedIn
Do you have a question? Or want any suggestions, and tips for travels, hikes and scuba dives? Use the Subscription box below to sign-up and get updates by email.
PIN for later reference