Sydney city walk – Wynyard to Lane Cove
If you fancy an evening walk with at least 7 to 8 kilometres on a weekday after work, then Wynyard to Lane Cove in Sydney is the walk. It passes through Sydney's beautiful tall buildings and also the Pylon lookout with some amazing views of Opera house.
How to reach Wynyard?
Wynyard is part of the Sydney Central Business District (CBD) circle. Wynyard train station is one of the main train stations, along with Central and Town Hall train stations. So any train that goes within the Sydney CBD stops at Wynyard. And also many buses going to suburbs Wynyard is the main bus stop.
How to get back to city from Lane Cove?
The nearest bus stop is the Lane Cove Interchange. There are frequent buses, as it is an interchange, between Lane Cove Interchange and Wynyard that takes just 10 to 15 minutes to reach the Wynyard train station.
Please note: This post may contain affiliate links which means I may earn a commission if you make a purchase by clicking a link on this post. This will be at no additional cost to you. Affiliate links help me keep this website up and running. Thank you for your support.
Beautiful spots that the walk passes through
The Rocks and Circular Quay
Both The Rocks and the Circular Quay are the most happening places in Sydney. The Circular Quay is supposedly the birthplace of Sydney and Australia. There are plenty of things to do in these places and it caters for all kinds of travelers.
If you love history, definitely try the Nurses Walk in the Rocks.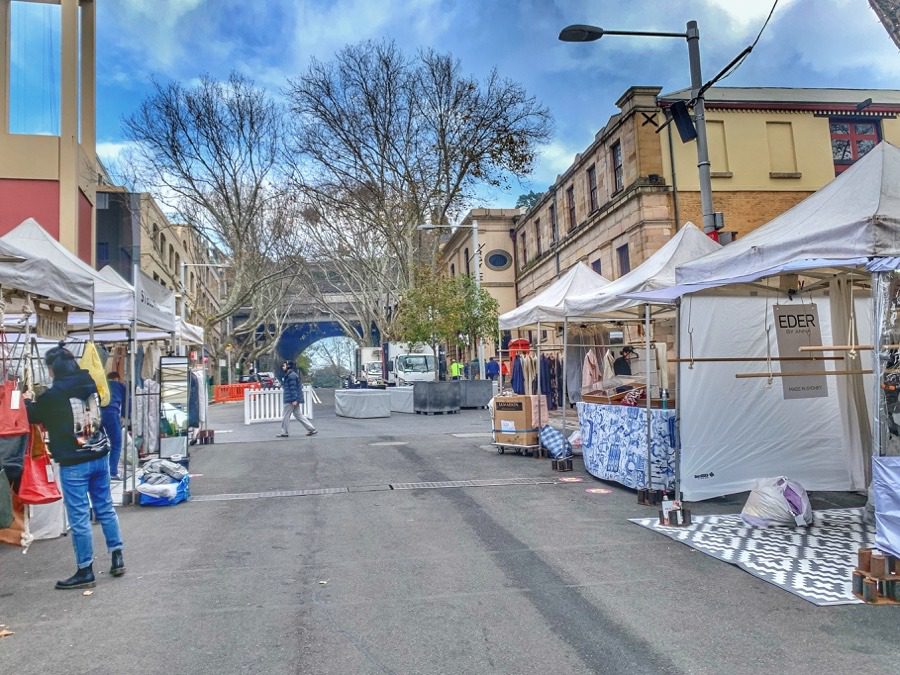 Sydney Harbour Bridge Walk
The Sydney Harbour Bridge walk is from the Rocks to Milsons Point. The spot on the bridge at the Pylon lookout is a great spot to see the Sydney Opera House from up above. The harbour looks spectacular at nights.
Kirribilli
Kirribilli is a pretty spot while walking from Wynyard to Lane Cove. It is one of the finest suburbs in Sydney and the most established one. It is also a wonderful spot to find the Jacarandas during the spring (months of September and October) season.
If you love cartoons and comics, then the Comic Walk could be your thing to do at Kirribilli.
Gore Hill Cemetery
The Gore Hill Memorial Cemetery is a heritage listed cemetery in Sydney. It is one of the oldest and largest remaining cemeteries in the city. The cemetery was established in the year 1868.
If you had asked me before coming to Australia if I would ever visit a cemetery, I would have said you are crazy. But my mindset changed after coming to Australia and I know that here the cemetery is the place where people who were loved rest. So I am not scared to visit a cemetery now, even though I still would refuse to go alone or visit it at nights.
Logistics of Wynyard to Lane Cove
Starting point: Wynyard train station.
Total distance: 9.3 kilometres.
Total time taken: 2.5 to 3 hours.
Type of walk: One way.
Grade: Easy, mostly flat and on the footpath.
Ending point: Lane Cove bus interchange.
The walk can also be merged with Darling Harbour to Wynyard and have the starting point as Darling Harbour instead of Wynyard.
Safety for solo female travelers
Sydney is absolutely safe for solo female travelers. I have walked on this path many times during the night and I have never had any issues whatsoever. But I would still suggest being cautious and knowing your surroundings especially at nights.
Closing Notes
Wynyard to Lane Cove is definitely one of the good walks in the city and it also provides a great way of exercise during the week. I would suggest doing this walk only when you have a lot of time in Sydney and you have done most of the other beautiful coastal walks.