Hike to Blackfellows Hand cave
One of the most interesting places to visit in the Blue Mountains is the Blackfellows Hand cave. With thousands of years of history, this place has display of aboriginal art, and the hike is surely one of the best in the Blue Mountains.
Are you visiting the Blue Mountains for the visit time? Read beginner's guide to the Blue Mountains.
The visit to Blackfellows Hand cave was not planned. I was visiting the Newens area in the Blue Mountains for another hike along with my friends and we suddenly decided to drive till the car park of Blackfellows Hand cave. Even though not planned, I am so glad to have visited the area and seen one of the historical sites of Australia.
Also read | Castle Head Return hike
PIN for later reference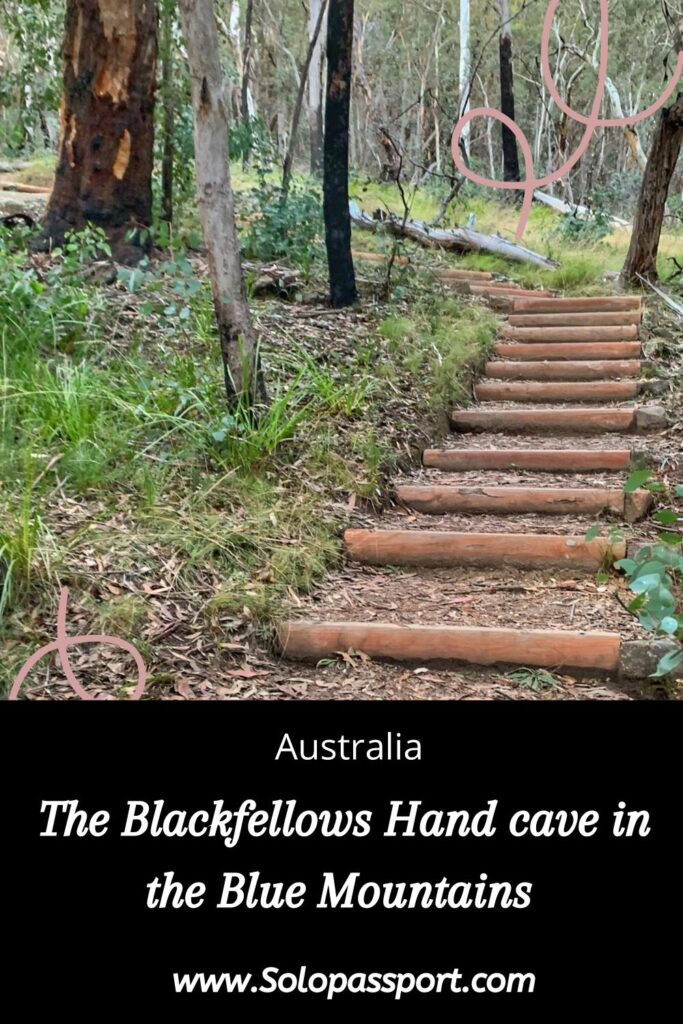 This article may contain affiliate links. For full information, please see our affiliate disclaimer here.
About Blackfellows Hand cave
The Blackfellows Hand Cave, also known as Maiyingu Marragu (in aboriginal language), is a very significant and important site in aboriginal history of Australia. It was a meeting place for the aboriginal tribes and now has preserved and protected drawings of hands, belonging to generations of aboriginal people.
The cave holds special place for Wiradjuri, Gandangara, Dharug, and Dharkinjung people. It is believed that the young people heard stories from Elders and learn to collect and use natural medicines and bush food. The area provides the spiritual and physical link to the ancestors. The drawings were produced using red, white and yellow ochres.
Are you fascinated by aboriginal art? Blue Mountains is home to many of such historical sites. And one such site is the Red Hands cave.
Located in Lidsdale, the cave is surely one of the best historical sites in New South Wales (NSW) region of Australia. As it is also not a very well known site, there are few very people who visit. The site is very well maintained and peaceful. It is covered with vegetation, rock formations and natural beauty. The complex also has a women's birthing area in a secluded part.
How to get to Blackfellows Hand cave?
Driving
The Blackfellows Hand Cave car park, which is also the starting point, is located off the Wolgan Road in Lithgow. The road leading to the starting point of the Blackfellows Hand cave is a slippery and rough fire trail. One definitely needs a 4 wheel drive to reach, especially during the rainy season.
The Blackfellows Hand cave car park is around 160 kilometres from Sydney city and the journey by road takes about 2 hours 20 minutes one way.
Public transport
Unfortunately, there is no public transport to the Blackfellows Hand cave car park. The nearest bus stop is at Lidsdale. Even though reaching the Lidsdale by public transport is complicated, it is still accessible by public transport.
The Blackfellows Hand cave car park is around 12 kilometres from Lidsdale and takes around 2 hours 30 minutes by walk. Lidsdale is accessible by bus from Lithgow train station. And there are frequent trains between the Central (in Sydney) and Lithgow train stations. Up to date information on trains and routes can be found on the Transport for NSW website.
Statistics of the Blackfellows Hand cave hike
The hike to the Blackfellows Hand cave is very easy and does not take too long. I highly recommend spending time in the cave observing the drawings.
Total distance: 500 metres from the car park.
Time taken: Around 15 to 20 minutes return.
Grade: Easy, set of few steps.
If you are looking for another easy hike in the Blue Mountains, then visit the Hanging Rock which is the beginner friendly.
Important information
Do not litter the site.
As it is of cultural and historical value, ensure to respect the site.
Do not write anything on the drawings or touch them.
The path to the cave is a set of stairs and is suitable only for hikers and trekkers. It does not have wheelchair friendly access.
There are no water stations or toilet facilities.
Wear comfortable and sturdy shoes.
There is no mobile network in the area.
The area is home to many insects and wildlife. Do not harm them and respect their habitat.
Safety for solo female hikers
I would not suggest visiting the Blackfellows Hand cave alone as it requires an experienced and skilled driver who is accustomed to the 4 wheel drives. If you are one of those drivers who is very comfortable with rugged and rough roads, then yes. However, I do suggest that you come back to Lithgow before sunset.
Are you new to hiking or trekking? Read my beginner's guide to hiking and trekking.
Download Emergency Plus app for any unforeseen situations. The app does not require mobile network and it shows the location of where you are. This is useful to let the emergency services know, in case there is any emergency.
If you are a tourist, always make sure to have a good comprehensive travel insurance to cover yourself in case of any emergency.
Closing Notes
The Blackfellows Hand cave is one of the intriguing and beautiful places in the Blue Mountains. It is that hidden gem that has so much of history and has a magical touch to it. I highly recommend visiting the caves.
How can you support me?
You know how much I love coffee, so you can buy me coffee – Buy me Coffee!
Or you can purchase from one of the below travel resources without any extra charge to you.

Travel Resources
Click to book your flight on Skyscanner.com
Click to book your accommodation on Stay22
Click to book a comprehensive travel insurance on Safety Wing
Click to book your tours and travels on Viator or GetYourGuide
If you liked this article and if it was helpful in your planning or traveling, do share, tweet, or pin this post.

Follow me on Instagram | Facebook | YouTube | Twitter | LinkedIn
Do you have a question? Or want any suggestions, and tips for travels, hikes and scuba dives? Use the Subscription box below to sign-up and get updates by email.
PIN for later reference