Are you one of those who love visiting forts? Then India must surely be on your list as India has been blessed with plenty of forts in every corner of the country. Similarly, the city of Leh in Ladakh has some historical landmarks and one of them is an amazing fort called the Zorawar fort.
During my travel in Ladakh, I spent a few days in the city of Leh. And during that stay is when I visited the Zorawar fort. I must admit that the fort was one of the best and coolest places I visited. The fort spoke about the long gone era of Dogra dynasty, and the city's history and sacrifices. Now converted into a museum, the fort has so much of information and remembrances.
Did you know that Ladakh is one of the places to see the Milky way in India? The places in Ladakh provides clear views of the sky where one can spot millions of stars.
PIN for later reference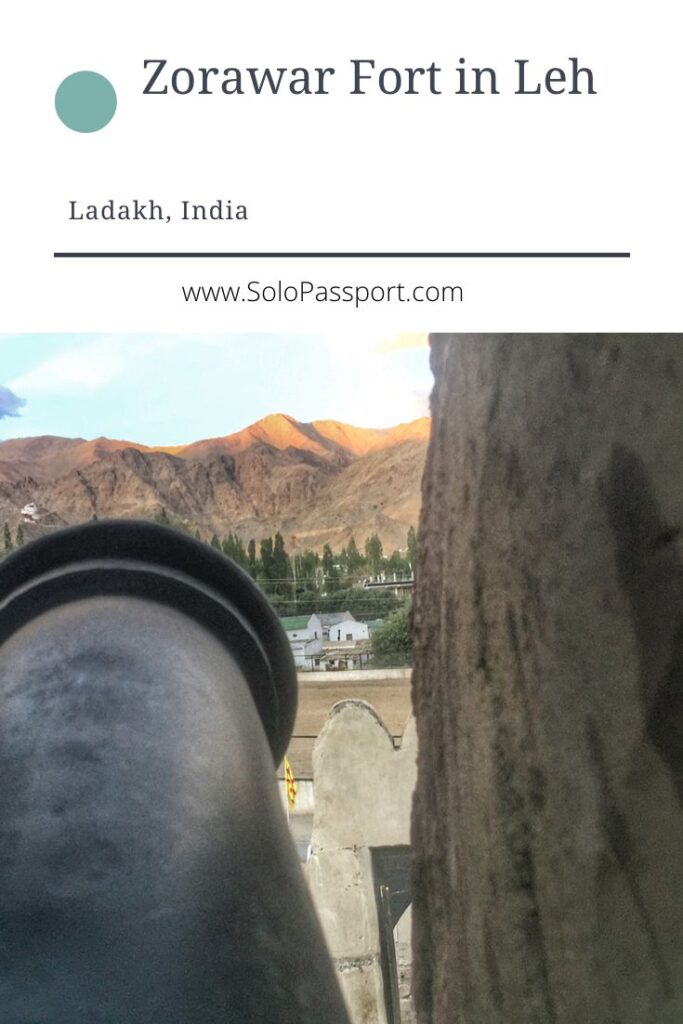 This article may contain affiliate links. For full information, please see our affiliate disclaimer here.
Disclaimers:
The prices mentioned in the post are valid only at the time of publication. Ensure to check the booking websites for up to date information and prices.
Opinions and views expressed solely mine and are unbiased. If the post is a collaboration, then they are specifically mentioned.
Ensure to check the relevant websites for up to date information on COVID protocols.
For any adventurous activities, please note that there is a risk that can be dangerous. Ensure to read the terms and conditions with individual agencies recommended and do them at your own risk.
For visas, it is best to see the embassy website for any changing rules.
About Zorawar Fort
Built in 1836 during Maharaja Gulab Singh's era for Wazir Zorawar Singh Kahluria, Zorawar Fort is one of the must see places in Leh. Also known as General Zorawar Singh fort and Riasi fort, Zorawar fort was built as a military post for the Dogra soldiers and was once home to the wealth of the rulers of Dogra dynasty. Located at 5359 metres, this fort is specially famous among the Sikhs from Punjab.
The best time to visit Zorawar fort is during the summer season which is between the months of April and July as the weather is pleasant and not too cold. One needs at least half an hour to one hour to explore and see the fort.
Visitor's information for Zorawar fort
The fort's complex has many buildings that are made of sun-dried blocks and wooden windows. It is divided into various rooms, such as:
War room housing all the materials used in the war.
History room showcasing all the information on various boards.
Artefacts room displaying the letters and manuscripts.
Museum that has many other artefacts such as paintings, coins, stamps and treasures.
Topkhana room that is home to cannons and mortars. NOTE: This room is closed and visitors are not allowed inside.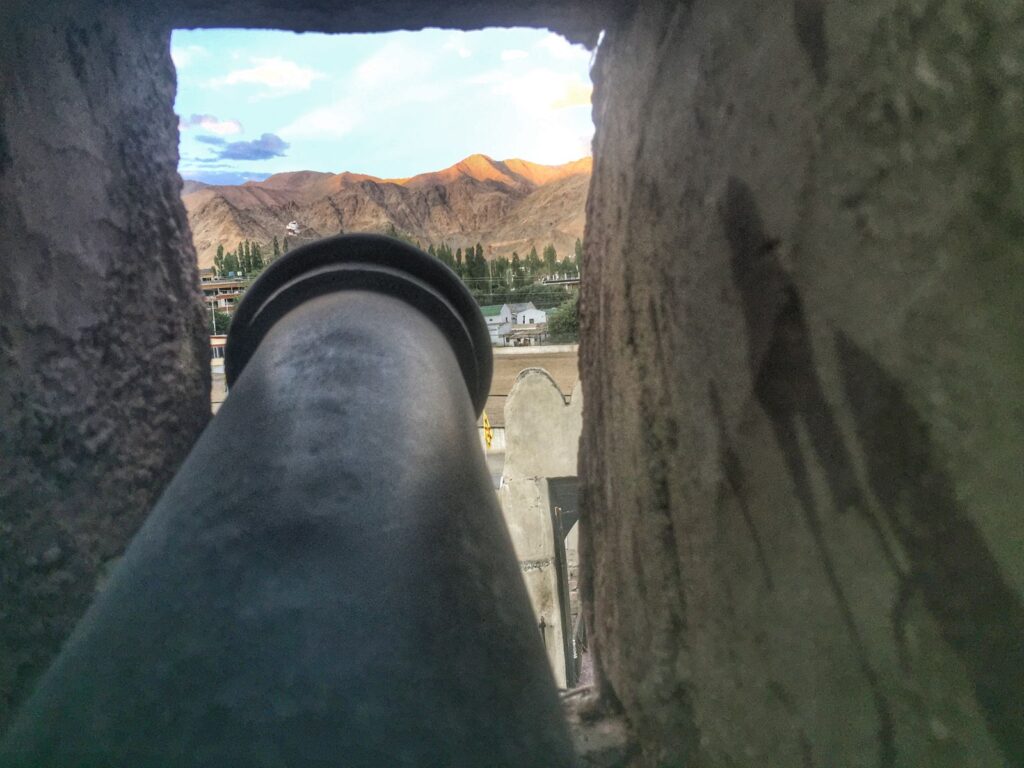 Timings and entry fee
The fort is open everyday between 10 AM and 1 PM, and between 4 PM and 7 PM.
There is an entrance fee of INR 20 per person that can be purchased at the entrance of the fort or at the Hall of Fame in Leh city.
Every evening at 8 PM, there is a light and sound show that lasts for around 45 minutes.
How to get to Zorawar Fort?
Located on Skara road in Leh, the Zorawar fort is just around 1 kilometre from Leh city and takes only around 15 minutes to walk up. As it was so close to the Leh market, I trekked up to the Zorawar fort, and the trek is easy and it provides breath-taking views. By taxi or car, the journey is just around 5 minutes.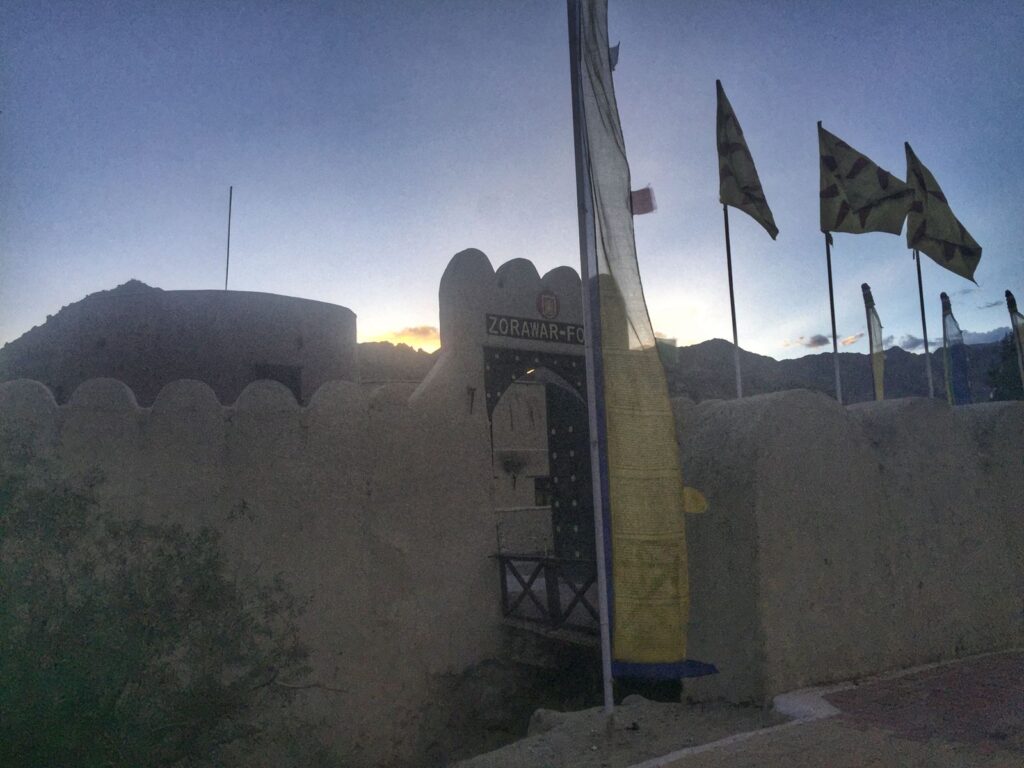 Safety for solo female travelers
Leh is a very safe city for solo female travelers. People are friendly and there is not much of crime that happens. I have walked around alone and I have not had any issues as such. However, like any other place in the world, be cautious, especially at night. Also, Leh has a lot of stray dogs and they move in packs. So, be extra careful when there are a pack of dogs around as they can get a bit aggressive specially during the winter season as they do not get sufficient food.
Are you new to solo traveling? Or do you want to travel solo but are not sure how and where to start? Read frequently asked questions on solo traveling.
Closing Notes
Zorawar fort was surely one of the unique forts I have seen in India. I have been to many forts in India, but have never seen a mud walled fort with wooden windows. As I visited the fort during sunset, it was a beautiful sight from up the fort and it was nice to learn about the history of Dogra dynasty and its soldiers. As the Zorawar fort is just above the Leh Palace, the fort is an extended visit while visiting the Leh Palace. I highly recommend adding Zorawar fort to your Leh itinerary.
Do you love visiting forts? Then which one is your favourite? Let me know in the comments below.
How can you support me?
You know how much I love coffee, so you can buy me coffee – Buy me Coffee!
Or you can purchase from one of the below travel resources without any extra charge to you.

Travel Resources
Click to book your flight on Skyscanner.com
Click to book your accommodation on Stay22
Click to book a comprehensive travel insurance on Safety Wing
Click to book your tours and travels on Viator or GetYourGuide
If you liked this article and if it was helpful in your planning or traveling, do share, tweet, or pin this post.

Follow me on Instagram | Facebook | YouTube | Twitter | LinkedIn
Do you have a question? Or want any suggestions, and tips for travels, hikes and scuba dives? Use the Subscription box below to sign-up and get updates by email.
PIN for later reference