Walk down the history lane of Rayadurga Fort
A few years ago, my friend and I visited Rayadurga Fort. It was accidental and not planned. But it was surely a pleasant accidental discovery. The fort is huge and is in a good condition. I love visiting forts and learning a lot of history and significance about them. India has plenty of forts and there is so much of history behind each one of them. I have been visiting few forts once in a while when I can to learn more about our history and past.
Andhra Pradesh has another significant and amazing fort, the Golconda Fort. The Goldconda Fort is the famous fort where everyone visits during their travel to Hyderabad.
PIN for later reference
This article may contain affiliate links. For full information, please see our affiliate disclaimer here.
About Rayadurga Fort
Built at 830 metres, the Rayadurga Fort (translating to King's Hill Fort) is one of Andhra Pradesh's oldest forts. The Rayadurga Fort is located in Rayadurgam (formerly known as Rayadurga) town in Ananthpur district. Rayadurgam is a famous for its textile goods and manufacturing industry. It is about 450 kilometres from Hyderabad.
The fort is made up of many layers of forts that made it difficult to access. It also has four caves, three temples and a huge statue of Lord Ganesha. The temples are dedicated to Anjeneya, Narasimhaswamy and Elamma. And the Lord Ganesha is a 4 metres high monolithic statue.
The best time to visit the Rayadurga Fort is during the winter season (November to February) as it is pleasant. The summer season becomes very hot and is not advisable. There is a short walkway to the Rayadurga Fort from the car park.
History of Rayadurga Fort
The Rayadurga Fort has a lot of historical significance. According to the history, the Rayadurga Fort was built by the chief of Vijayanagara empire, Junga Nayaka. After the Battle of Rakshasa Tangadi (also known as Battle of Talikota, the Rama Rayalu lost the battle and the Muslim invaders tried to destroy the fort. Later the Muslim invaders were driven out by Koneti Nayak and his son Venkatapathi Nayak fortified the fort. Later the fort was captured by Tipu Sultan and then was annexed by the province of Gooty.
How to get to Rayadurga Fort?
Even though Rayadurga Fort is in Ananthpur district and is around 99 kilometres from Ananthpur, the fort is more close to Bellary city in Karnataka. I went to Rayadurga Fort when I visited my friend in Bellary. The fort is just around 51 kilometres from Bellary. The best way to travel is by reaching Bellary through an overnight train (refer IRCTC website) and then hiring a taxi to go to Rayadurga Fort.
The Rayadurga Fort is also just 2 kilometres from Rayadurgam Bus Stop. There are buses between Anathpur and Rayadurgam. The buses can be found on Redbus.in.
Safety for solo female travelers
I would not suggest visiting this place without a buddy. I went with my friend and it was safe because we were two of us. The place can get very isolated and it is better to visit it with one another person.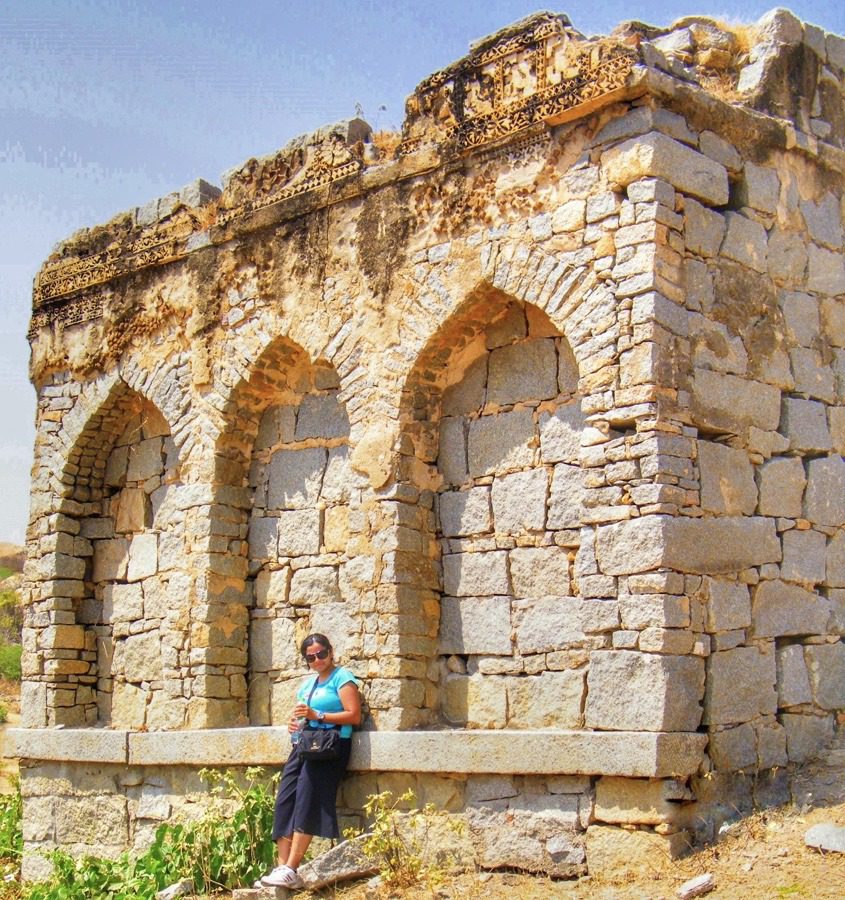 Closing Notes
It is definitely worth visiting Rayadurga Fort. I loved it there and I enjoyed visiting this amazing fort. Rayadurga Fort is truly a walk down the historical lane. I do wish to go back some day and spend more time at the fort.
If you loved reading about the Rayadurga Fort, then you will love the below articles on other forts too:
PIN for later reference